The latest work of a digital artist surprises us all by turning Wobbuffet into a nice woman
Pokémon It is one of the most successful franchises in video game history. Few sagas (and I would dare to say that none more) have characters as iconic as Pikachu, who is known even by our grandmothers.
And it is not for less, since his first game came out that Green Edition in 1996 in Japan, which never reached Spain, in the last scarlet and purple Game Freak and Nintendo have done nothing but succeed by maintaining a successful RPG formula. About scarlet and purple Ramón Baylos gives us his opinion in this analysis.
An artist known as "endifi", who has already attracted attention with other pokemon designs, has successfully succeeded in designing a human model of the Wobbuffet. Something that within the fan community has attracted attention since this pokemon is very loved by lovers of the franchise. Wobbuffet has a long history in both video games and anime and giving it a human form is quite a complex feat to achieve.
If you're a fan of Wobbuffet, you'll surely like to meet him turned into a person 🧑🏼 If you're curious to see other pokémon with a humanoid appearance, you can access this link where the author uploads his designs. The work of these types of artists is being overshadowed by AI's and deserves support 🤖 Spending a long time lost in the immensity of details so that human adaptation makes sense 😵
about the work
Wobbuffet representation
His work is based on two fundamental pillars, the morphology of the creature to imitate and its own color. If we analyze Wobbuffet we have a very thin being at the bottom that progressively widens up to the head, as if it were a drop of water in reverse.
Capturing this in a humanoid figure requires some creativity, because people are not like that, as long as they try to make the final model appeal to a certain degree of realism. For this reason, the artist chooses to draw a woman with a kind of mink coat. But let's not just stop at a pokémon, well Some more are worth noting.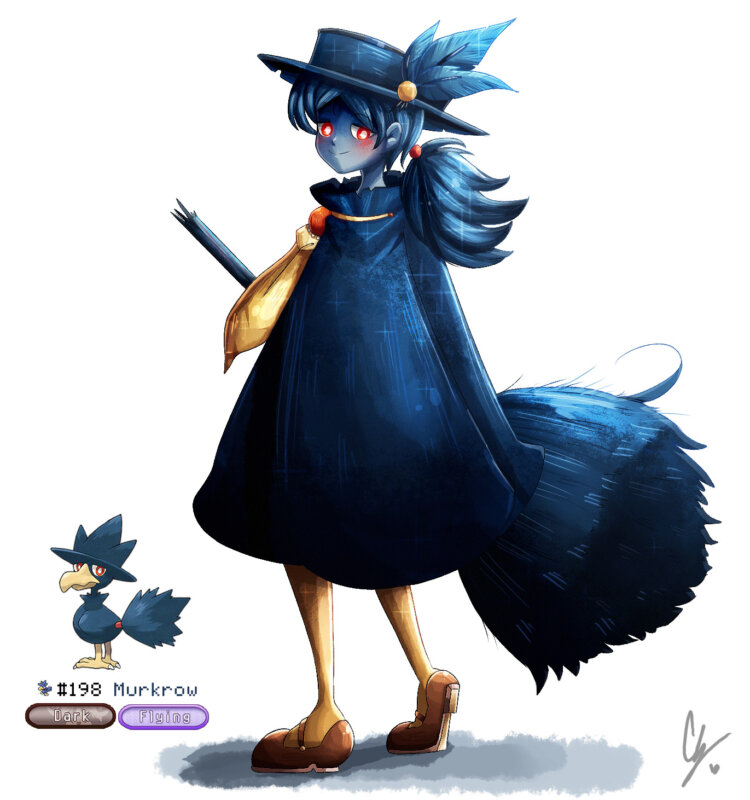 Murkrow as an endearing witch
Another interesting element the artist takes into account sometimes is the type of the pokémon that he emulates. For example, Murkrow. This pokemon is "dark" and "flying" type. In the first instance we see a witch, and I think it deserves to be commented, since implementing the "flying" concept here was complex, and, socially, we all know that the mythical witches used their broomsticks to fly.
And even so, said broom fulfills a plastic function: that of representing the pokemon's tail. All accompanied by faces and poses that they maintain the essence of what the original Game Freak drawings were intended to convey.
Some of you may find these comments pretty self-evident on my part, and I candidly agree with you. But I invite you to reflect on how well this person has done: If it is so evident, it is that the artist has managed to fulfill his objective, that we identify a plastic adaptation immediately.