Terra Nil is what the developers call a reverse city builder. There are no cities here, you see, instead it is nature that will return home. A bit like when Simba heroically gives up his lazy days together with Timon and Pumba in The Lion King.
To achieve this, you must master four different biomes. The map changes every time, but the challenge is essentially the same. You start with a wasteland where nothing living has set foot in a long time. You will then place various equipment which step by step will bring life back to life. First you have to get a current that the machinery can run on, and after that you can place machines that spread grass, water, various forms of flora, or increase or decrease the humidity.
The whole thing is wonderfully relaxing. There is an immediate calm and joy in this game. One sits and watches how every little thing I do has visible results. After a short time, you cross a piece of land with brown, dry and lifeless soil, until bushes, trees and river beds almost fight to get to the finish line first.
A basic lesson in science
The game offers a notepad that tells you what your mission is.
Øystein Furevik/Gamer.no
Terra Nil is not a game that offers a great challenge, but you get a whole series of problems that have to be fixed in turn. Of those, you have a handful of goals that must be solved to move on, as well as a number of optional ones. The last ones are perhaps the most interesting. In addition to physically changing the nature in Terra Nil, you can also change the climate. Machines can pump up water to increase air humidity, and you can burn organic material to raise the CO2 level so that it gets warmer and you can introduce new forms of plant life.
Changing humidity and temperature has a lot to say, and as you reach different thresholds things will start to happen on your map. Different forms of life take place in your world, the rain comes, and if you're really good, the salmon climbs a river or two.
Completing these goals also has a purely practical impact. A downpour is not only a visual indication that you have been good, it will also collect water and fill rivers, cool lava, and make it grow green plants where you have not yet reached with your technology.
When everything is green and nice, clean up after yourself, and make the wildlife bloom as much as the plants. Ideally, this part would have been split in two, where cleaning and animal care were done separately. The interface in the game is built in a way where it is very easy to go straight to cleanup, but if you clean up and remove all traces of humans too quickly, the exposure of animals can become a bit frustrating.
These animals can have great demands, and everyone wants one or more forms of nature to frolic in. After creating a diverse landscape that you are satisfied with, it is a little annoying that an animal species does not want to settle down because they want a little more forest and river in the same place than you have the power to achieve.
It's nice to move forward in this game. Backwards, not quite so much.
A little bit to bite into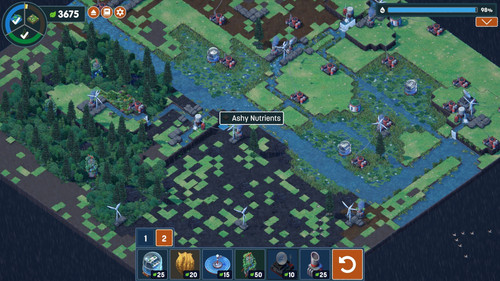 A lot is done when the rain comes.
Øystein Furevik/Gamer.no
Terra Nil is actually an enjoyable game, but there is too little to do here. I completed the game in about four hours. After that, I could brush up on variants of the biome I had already been through, but it didn't offer enough variety for it to appear as anything other than pure repetition for repetition's sake.
You will already have noticed this repetition when you reach this point. Terra Nil offers four different biomes, and each of these has different requirements. An old city that is under water will have different requirements than a dry plain. You therefore get different tools, but the changes are rarely more than cosmetic, and it therefore quickly appears as just more of the same, and little actually new to do.
The game does not develop. It doesn't throw in new mechanics that force you to use the old ones differently, and think anew. It would have been nice if I had access to several new machines that did completely new things, and perhaps an opportunity to research new and better technology to become more efficient in afforestation.
Terra Nil is both entertaining, relaxing and interesting, but it's over so quickly that you almost get a little bored. If it had lasted a little longer, and offered more content, things would have been different. A game like this doesn't need many more hours, but there is so much potential here that it's almost sad that it hasn't been used.
It also has a couple of irritations for many that should have been weeded out. The game is unnecessarily awkward at times. You have to do certain things very precisely. For a game that openly bets on being a quiet time, it's easy to lose that calm when you're forced to tear up all the work you've done, because an area is just a tad too small.
The clean-up which takes far too long because you have to do the whole job yourself, or rather not a bonus. It's not fun, it's just boring, and it could well have been replaced with a big, red button, or several mechanics that play on what you do with what you recycle.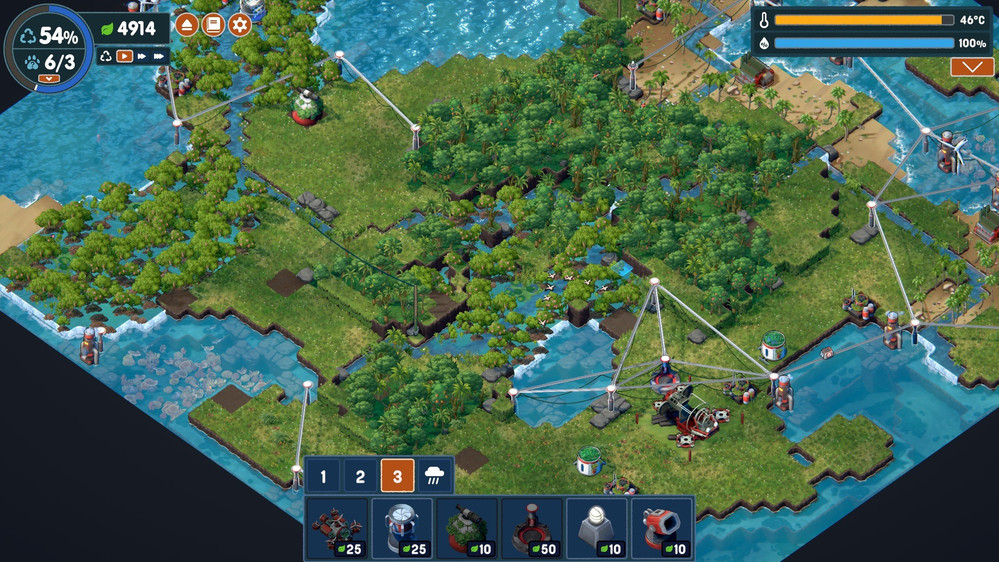 The game's best quality is all the small details that show that the work is useful.
Øystein Furevik/Gamer.no
He was blessed with naturoppleving
Terra Nil's greatest strength is how incredibly relaxing and almost meditative it is. Step by step you build your way towards a better value, and the visual design behind the game highlights this in a lovely way. The visual style may be simple, but it communicates well what is happening, is clear, and makes it very clear what you do, and what happens when you do it..
The game abounds with nice little details. If it is the many different plants in different terrains, or the animals that wander around. One can zoom in far to manage life. It has no practical function, but to see small animals frolic in the beautiful nature that a short time ago from gray death is a triumph in itself.
The graphics are not least clear, and if you are looking for something specific, it is always easy to find.
Above all this, we get relaxing piano music that strums in and out at regular intervals. The game is laid back on the sound front, and if there's one thing I'm missing right here, it's more sound from the world. The contrast between the desert and the lush forest is quite solid, and birds chirping and snorting, plus a quail that sings every now and then would have been a wonderful spice.
Conclusion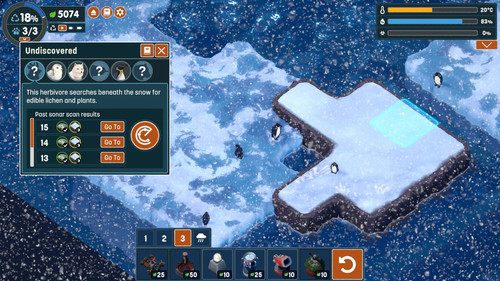 The penguins are enjoying themselves anyway.
Øystein Furevik/Gamer.no
Terra Nil is a game I don't quite know what to think about. On the one hand, it's a nice, pleasant and relaxing game that I'm glad I played. On the other hand, I can't quite imagine that I'll ever play it again. It is visually charming, and the mechanics are solid, but it appears mostly as a starting point. The start of something that could become something more, and it's actually quite surprising that this isn't an Early Access game.
With just under four hours of playing time, there's a little bit of innards. Not that all games have to be long, on the contrary I think that too many games are too long, but when you reach the end and feel a touch of disbelief, it's a bad sign.
If the developers continue to create new content for the game, it can quickly develop into the game it should have been one day. Terra Nil is certainly a relaxing and nice experience, but it is a little too short, and a little too flimsy.
Terra Nil is out for Windows, Android and iOS.