Little Olle was awakened by a nightmare. However, when he sought comfort from his older sister Lillemor, he found only an open window, a rope made of sheets, and the tracks of clogs leading into the forest. A scene all too similar to the fairy tale that the mother used to scare the children at bedtime, in which the girl was swallowed by a dark forest.
I have to admit that I have a certain fondness for "fairytale horrors", or "children's horrors" if you prefer. There's just something about the way he can bring out the strange worlds and scare the child in us. And I can safely say now that I consider Bramble: The Mountain King to be one of the most successful pieces in the current competition of brands like Limbo or Little Nightmares. In his short but all the more intense story, he combines folkloric inspirations, terrifying scenes and scenery so beautiful that it passes the eye in an absolutely refined way.
source: Dimfrost Studio
From fairy tale to horror
But what I enjoyed most about Bramble: The Mountain King is its "duality". The opening scene in the forest is dark, but it still gives an innocent feeling of safety and closeness to the familiar. Then when it dawns, you are playing hide and seek with the forest elves, the frog king licks you and everything is bathed in the sun, for a moment you might even completely forget about the scary warning that the game showed you at the very start, which says something about murder and torture.
But it doesn't take long and Bramble will remind you very quickly. From a fairy tale world, as if by a wave of a magic wand, the world becomes perversely brutal. Some scenes look like an arena from Mortal Kombat, and some scenes wouldn't be ashamed of Resident Evil at all. But instead of the corporations and biological weapons that permeate the Japanese game series, the central motif of Bramble is folk folklore – specifically Germanic and Norse. It is from here that all the creatures you meet on your painful journey come from. From the Troll who kidnapped your sister, to Häcken playing the violin, to the old woman named Pesta spreading the plague.
Suddenly it's not so fairytale anymore. Every creature is here in an "adult" version, and every death of the main character is remarkably brutal. That's also why I enjoyed those out-of-context moments, when everything turns green again, the sun shines and the game turns into a fairy tale for a while. It's this quick swapping of faces that I really liked about Bramble.
When you begin to unravel the story of the forests and the kingdom overgrown with brambles, the classics of the Brothers Grimm will come to mind. With regard to the overall mood of the game, I also remembered many times Hellblade: Senua's Sacrifice, which bears many similarities to Bramble, despite the fact that it reaches much deeper into the theme of Norse mythology for inspiration.
Beautifully terrifying and hauntingly beautiful
Both games have a similar tendency to revel in beautiful vistas and cinematic-artistic camera angles. Some might argue that Bramble is perhaps too much of a game to look at, and there's not much to argue against, but the fact is that it just looks beautiful.
The world in which Olle is, without further explanation, sometimes adequately large and sometimes, on the contrary, tiny, is full of details, bizarre scenes and precise play with light. Bramble literally overflows with situations where the shot looks like a desktop background, so I kept pressing the button to take screenshots. Just to delete half of the pictures again, because otherwise you wouldn't actually have to play the game after clicking through the gallery.

source: Dimfrost Studio

The already mentioned gloomy, dark, even morbid moments alternate with innocent fairy-tale sunshine, but they are also complemented by a number of scenes of directly psychedelic quality. I'm pretty sure there's at least one moment towards the end of the game that I'll remember for a really long time.
The often neglected element of sound in games also deserves its praise. Bramble completes the excellent atmospheric soundtrack, supplemented by a couple of full-fledged folk songs, as well as evocative sound. Sometimes it's a bit of a cheap horror trick, but I still have to say that, for example, the sounds that brought the witch's house to life didn't make me feel very well.
There's more to the environments and characters you'll meet in Bramble than meets the eye. Considering the short gameplay (a little over four hours), everything is also quite compact, so you won't get bored of a specific topic. Practically the entire passage, which took me a single evening, I completed – figuratively speaking – with my mouth wide open. But the whole time I was wondering if the gameplay couldn't be a little more diverse as well, among the various environments.
Throwing a light stone
Bramble is a strictly straightforward game. There is nowhere to deviate from the established route, with the exception of a few dead ends, where after a few steps you will come across one of the wooden figures in the collection. And that's okay. Every game doesn't have to have an open world and a bunch of decisions. Some stories and game maps are simply strong in their basic form, told and played out from start to finish. Sometimes I just felt like I was more of a spectator than a player.
Don't expect classic fights here, but you won't find classic enemies in the forest either. All skirmishes take place either in the form of a game of hide and seek, where you run from one clearly prepared shelter to another, or at selected moments you throw the glowing "Spark of Courage" stone. This is especially the case during "battles" with bosses, which are incredibly imaginative visually, but not so much in terms of gameplay.
The jumping passages are also not out of the ordinary, but a few nice logic puzzles can be commended. Although they usually have a trivial difficulty, they are a nice addition to the gameplay, which otherwise doesn't have much opportunity to stand out.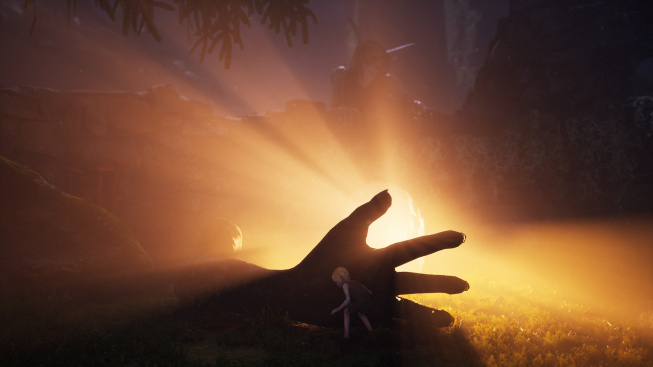 source: Dimfrost Studio

On the other hand, it must be said that few games in the same category as Bramble can surprise with their game mechanics. The shorter playing time is therefore more of a plus, because during those four hours Bramble will show you what he does best, and you will be happy to forgive him the narrow possibilities of gameplay.
I have to admit that I had fun with Bramble the entire time and was in awe of the beauty of his world, which is as twisted as it is fairytale. I was constantly anticipating what setting or bizarre character I would discover next, and even though I originally wanted to split the relatively short story into two sittings, I ended up playing through the game all at once. And even though she strictly led me by the hand the whole time, it was one of the best experiences in the "fairy tale horror" category. I'm actually surprised that Bramble: The Mountain King isn't being talked about a lot more.