CORSAIR (NASDAQ: CRSR), a world leader in components for enthusiasts, gamers, and PC builders, today announced the launch of two new M.2 PCIe Gen4 solid-state drives: the MP600 MINI and MP600 CORE XT. These drives extend the CORSAIR SSD lineup to the ultra-compact M.2 2230 form factor, and a highly competitive new combination of price and performance, enabling a new wave of device upgrades.
The MP600 MINI packs the performance of CORSAIR M.2 SSDs into the smallest footprint to date, with the M.2 2230 form factor measuring just 22 x 30mm. The MP600 MINI is compatible with the most popular portable gaming systems, such as Valve's Steam Deck, as well as space-critical thin and light machines, such as the Microsoft Surface Pro 8 and 9. With an impressive capacity of With 1TB storage and PCIe Gen4 performance of up to 4,800MB/s read and 4,800MB/s write, the MP600 MINI is the perfect upgrade for storage-hungry small form factor devices, whether it's holding a growing collection of games or essential files and data.
The MP600 CORE XT uses high-density 3D QLC NAND Flash to deliver great performance at a great price. Available in 1TB, 2TB, and 4TB capacities*, the MP600 CORE XT offers plenty of options to easily expand storage on motherboards, laptops, and notebooks that support its industry-standard M.2 2280 format. Support for PCIe Gen4 x4 means you'll enjoy sustained performance of up to 5,000MB/s read and 4,400MB/s write, which is up to 10 times faster than a SATA SSD.
Both the MP600 MINI and MP600 CORE XT are backwards compatible with PCIe Gen3**, allowing you to enjoy fast upgrades on a wide variety of devices.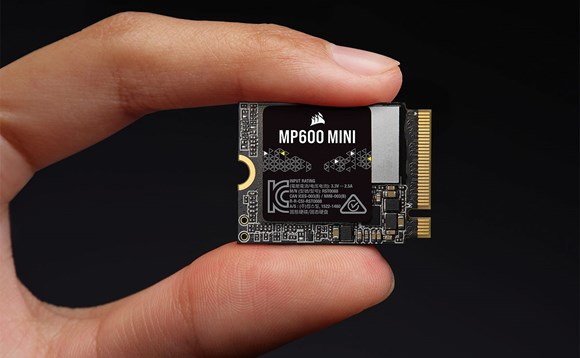 Like all CORSAIR solid-state drives, the new MP600 SSDs are compatible with the free CORSAIR SSD Toolbox software, and are backed by a five-year warranty for peace of mind.
* Performance and resistance may vary based on capacity.
** Lower performance on PCIe Gen3.
Availability, warranty and prices
The CORSAIR MP600 MINI and MP600 CORE XT-series SSDs are available now through the CORSAIR web store and the CORSAIR network of authorized retailers and resellers worldwide.
The CORSAIR MP600 MINI and CORSAIR MP600 CORE XT are backed by a five-year warranty, along with the CORSAIR worldwide customer service and technical support network.
For up-to-date pricing for the CORSAIR MP600 MINI and CORSAIR MP600 CORE XT, please refer to the CORSAIR website or contact your local CORSAIR sales or sales representative.