Nine years after its reveal, Dead Island 2 finally hits the gaming market and is no longer just a legend of the gaming universe. With the proposal to renew a category of wide competition, the title bets on some innovations that can attract exactly those who were looking for something with identity.
Despite these interesting changes, Dambuster Studios would need to change a formula that has been showing signs of fraying. Would the long-awaited sequel to Dead Island be the turning point in action-based, exploration, and re-mission zombie games?
There's something wrong with my blood…
In a California ravaged by hordes of the undead, a plane loses control and crashes into the ground, causing countless fatalities. Few victims survived, but they would soon discover that the real test by fire was about to happen: outside, general chaos spread.
After managing to rescue some of the passengers, a survivor ends up injured and despairs when he detects a zombie bite on his arm. With that, he needs to go to the city and find people capable of helping him. However, everything changes when he realizes he is immune to the virus. Would this be the salvation for humanity?
Source: André Custodio
Dead Island 2 is a first-person action game based on exploration, resource gathering and looter-shooter mechanics. The further the campaign progresses, the more valuable items are found, although many are locked away by keys, passwords and doors.
Like a good zombie apocalypse game, the game's story is definitely not its strong point. Here, we participate in a plot relatively reused from competing films, series and games, where even the twists, despite happening, become predictable in many ways.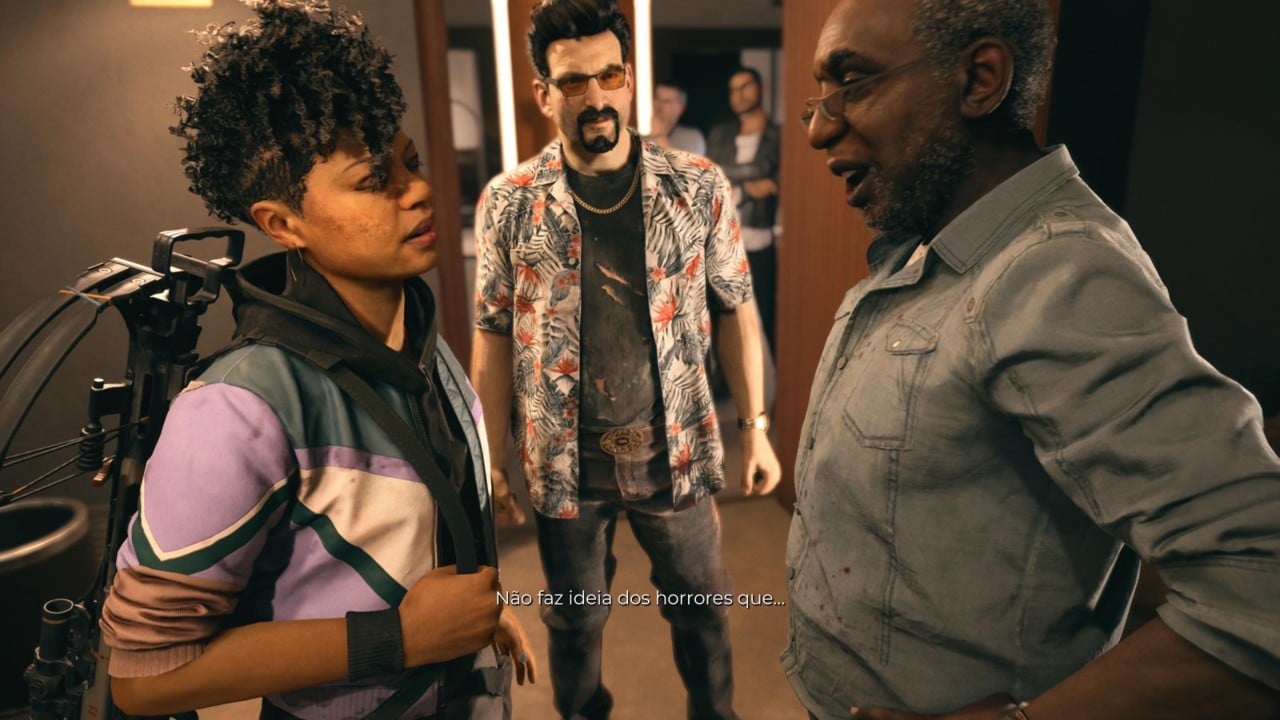 Source: André Custodio
The protagonist's immunity is the background for several main events to occur, but they are often ignored by them. In this way, when following this line of reasoning, the secondary activities only "fill the sausage", completely removing any impact from the narrative.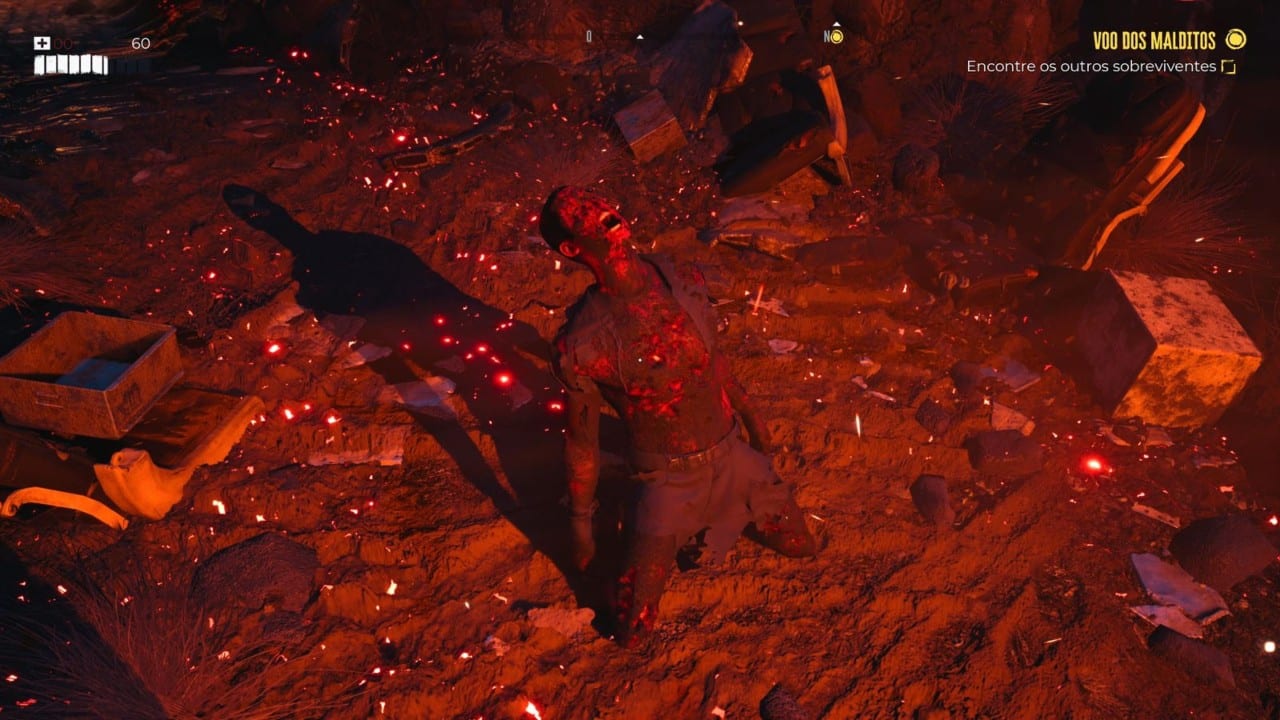 Source: André Custodio
Additionally, players can take on the role of one of six playable characters — each with their own voice acting, specific attributes and perks. Unfortunately, like every other NPC in the game, there's a push for catchphrases and practically zero charisma.
Obviously, this would extend to side quests, lost and found activities, and disappearances. The people related to each event stand out for being placed in Dead Island 2 anyway. So, there's nothing lost in leaving them there and just following the central campaign.
If the Dead Island trailer had happened…
The shock was great when fans watched the cinematic trailer for the first Dead Island and found a totally different gameplay. It took years to happen, but finally the relationship between the video and the franchise took place in the second game – everything here is visually stunning.
Graphically speaking, hats off to Dambuster Studios. In Dead Island 2, every detail has been carefully thought out. Streets, alleys, beaches, malls, tunnels, abandoned houses… the atmosphere of the maps is quite immersive, with emphasis on the high level of technical detail.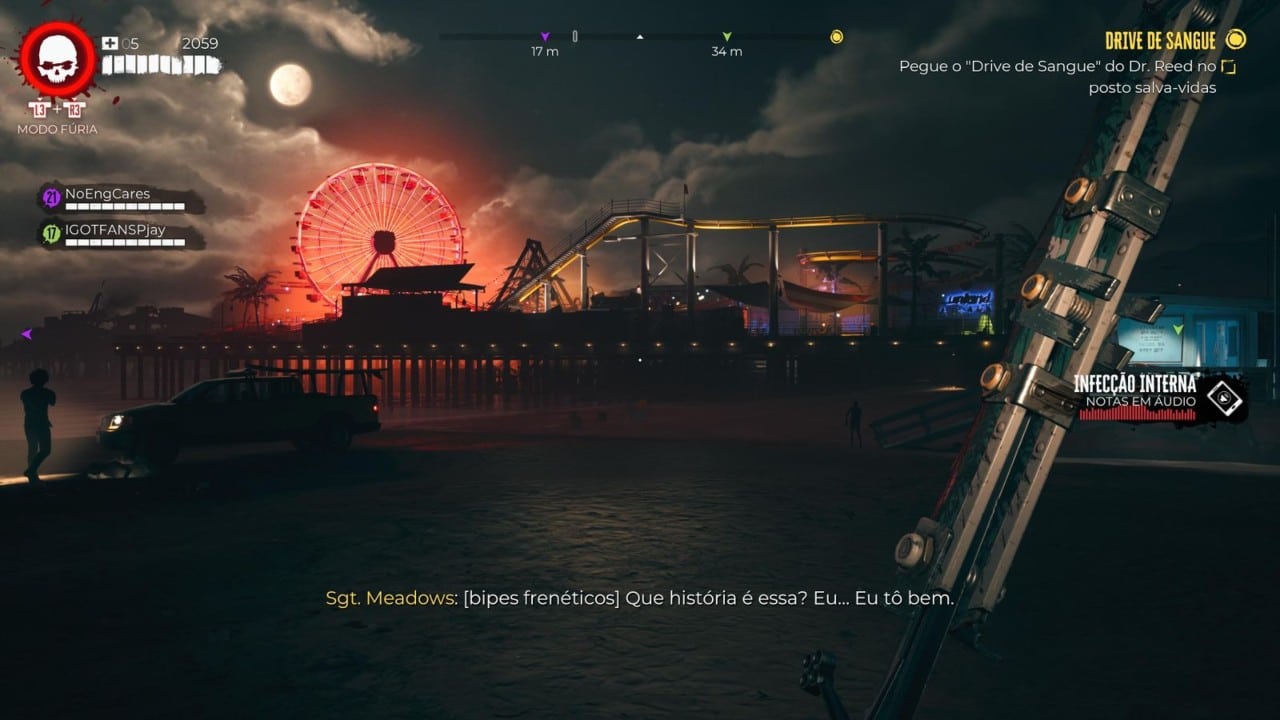 Source: André Custodio
Players will be impressed by the visuals of the game in the first moments of the campaign. Burning particle effects deserve a special mention, but the shadows, reflections, lighting, textures — both day and night — are something that impact the overall experience.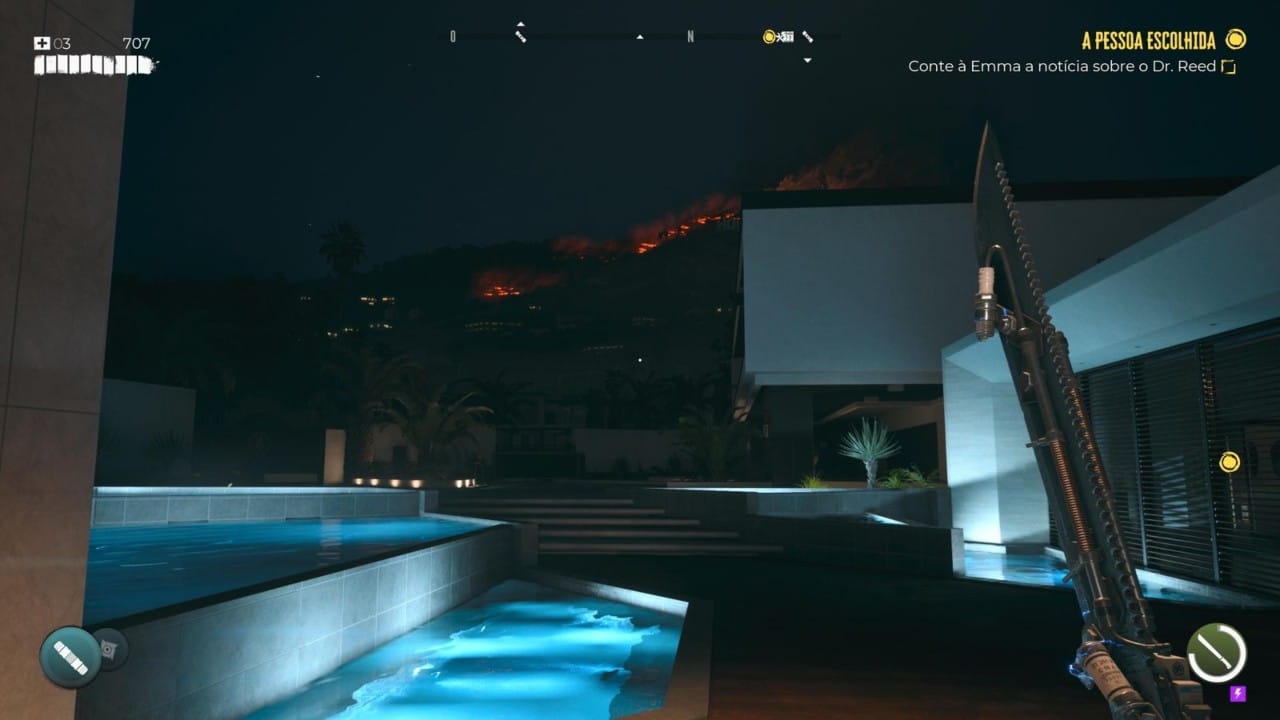 Source: André Custodio
It is worth noting that Dead Island 2 is not an open world title, even with the zones being relatively extensive and full of points of interest. Amid elemental effects, real-time zombie actions, and near-zero load times, the optimization is above par.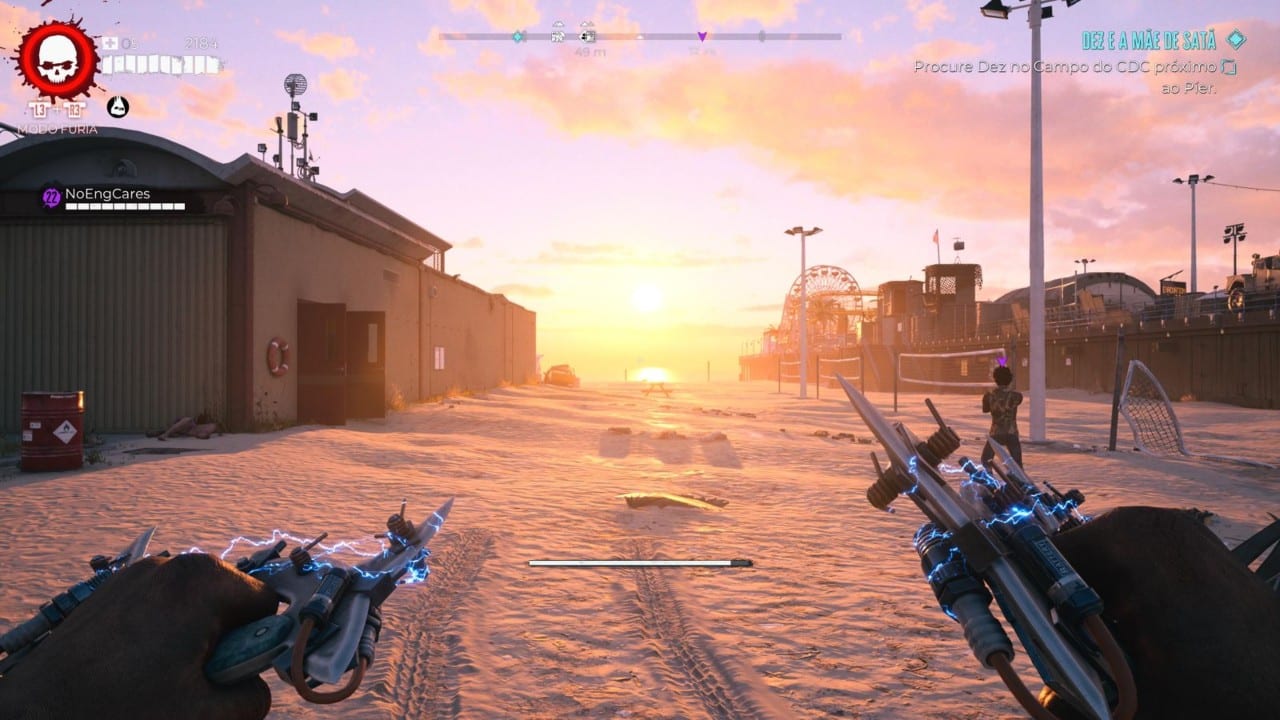 Source: André Custodio
Another detail is due to the facial expressions and physical characters. When observing the shadow of the protagonist, it is possible to see that its flow is much more realistic compared to games like Dead Island and Dying Light. Also, NPCs' facial expressions and body movements are plus points.
FLESH system is everything the fan wants
Implemented as one of the main new features in Dead Island 2, the FLESH mutilation system adds a lot to the combat. This mechanic allows players to not only access certain perks, but also follow up combos with melee weapons, firearms, and scenario effects.
In practice, this means two things. The first is that attacking zombies and damaging different parts of their bodies is a real spectacle of visual satisfaction. Arms, legs, heads fly around in a bloodbath as guts appear and organs decompose.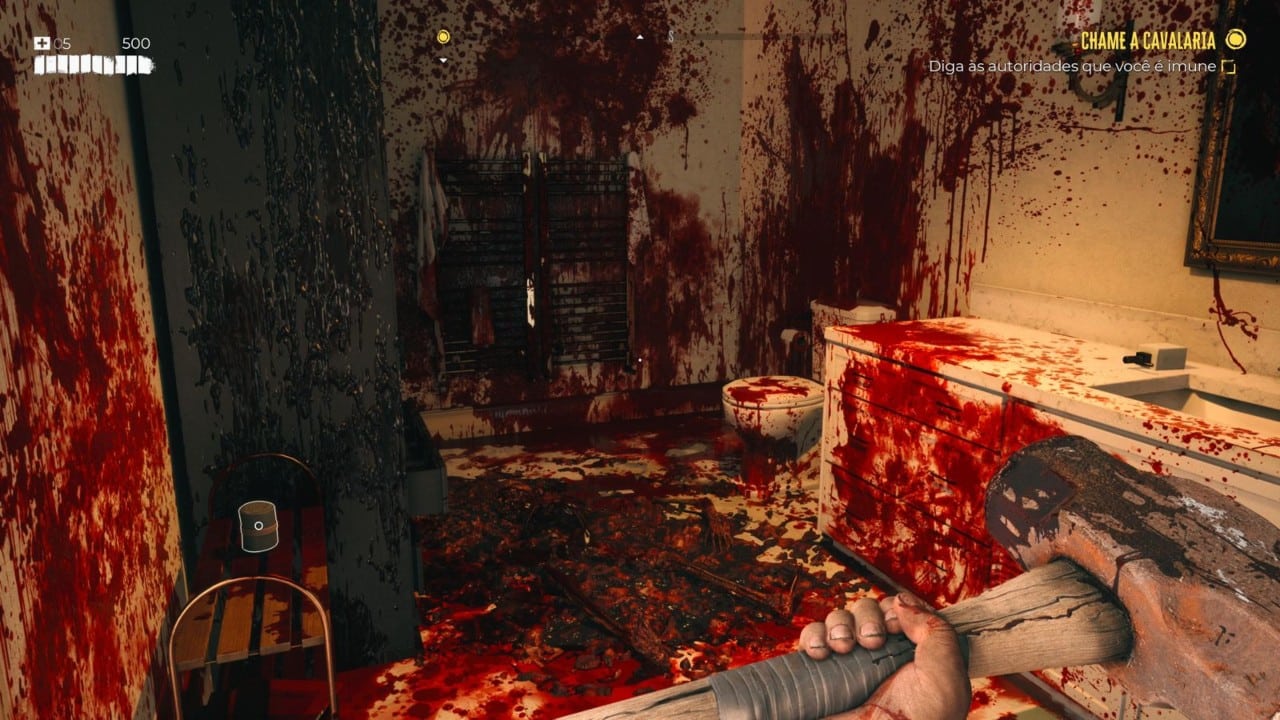 Source: André Custodio
The second concerns some facilities added to the gameplay. The more you mutilate a zombie, the more contact surface increases. With this, players can link, for example, arms to puddles of water, generate lightning damage and electrocute a dozen enemies in a few moments.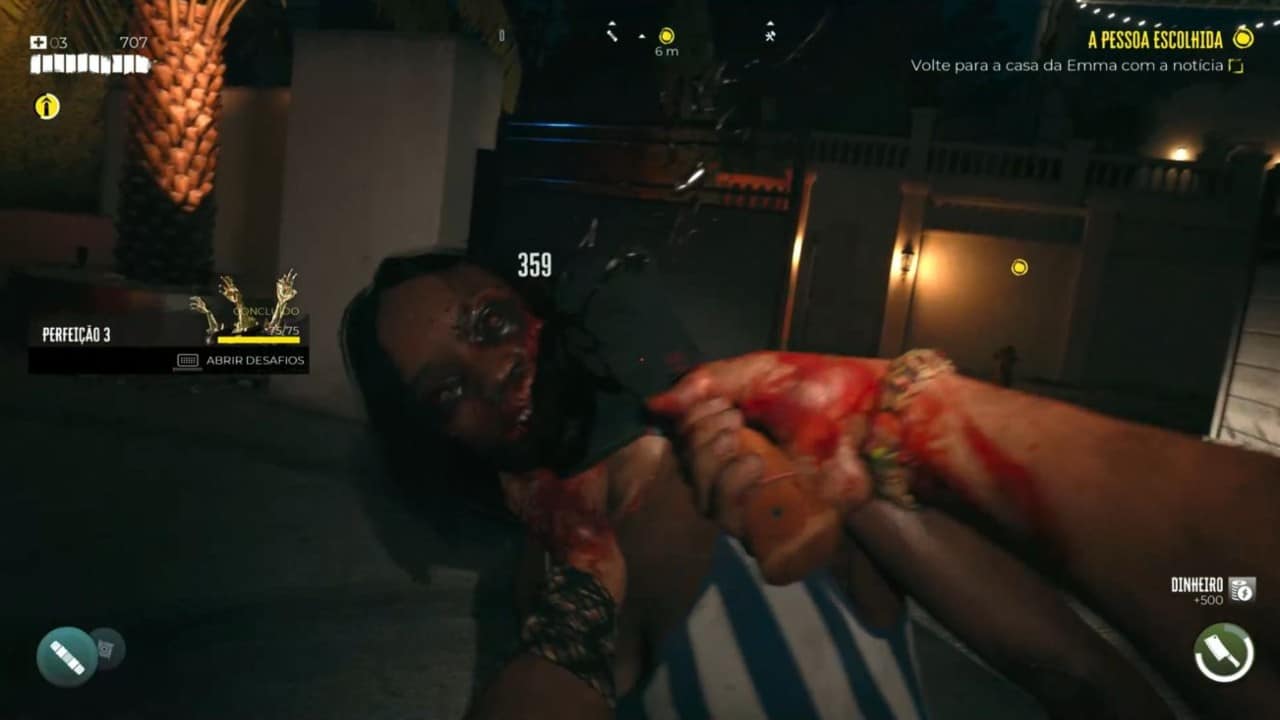 Source: André Custodio
It is important to emphasize that all weapons maim, but each one causes different visual effects. Blades, for example, result in deep cuts and bruises in the direction of the attack performed, while sledgehammers dismember with greater impact and crush undead quickly.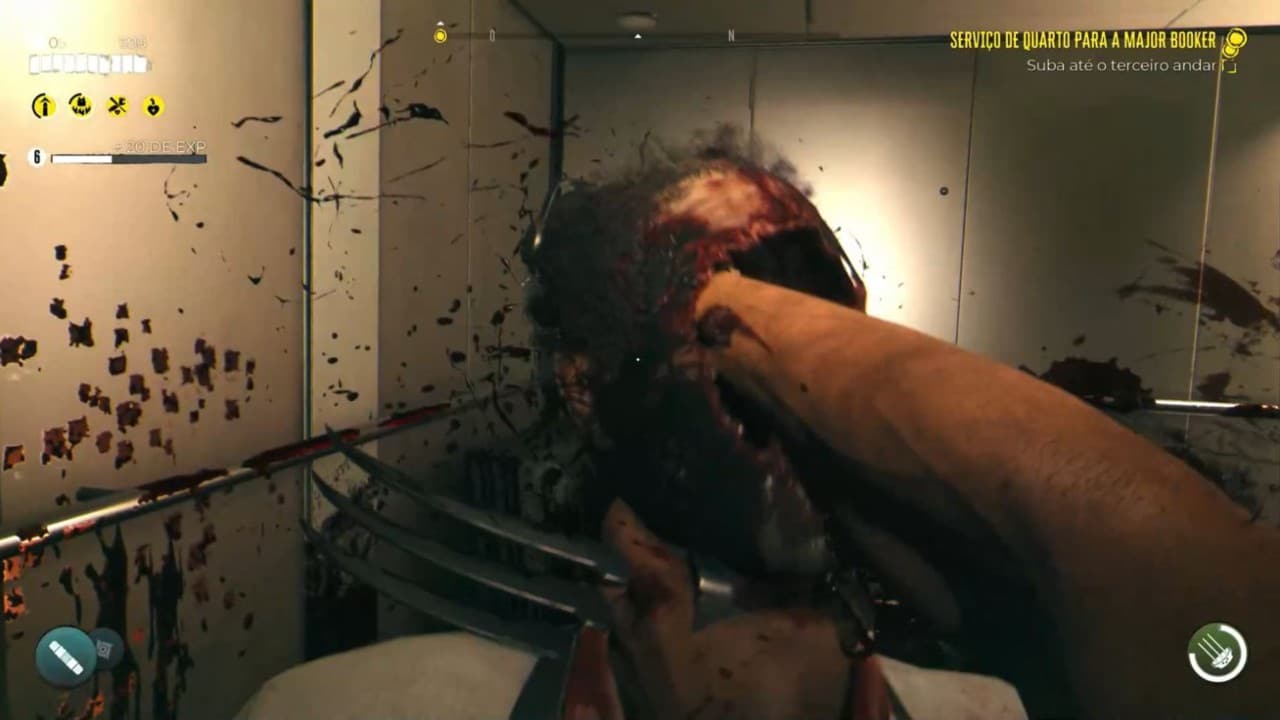 Source: André Custodio
New to Dead Island 2, which extends to brutal finishers and offers greater variety in weapon usage, avoids so-called "bullet sponges". Thus, each zombie receives impacts according to the power of the weapon, the concentration of the blow and its weak points.
This mechanic, adjusted with the wide variety of zombie skins — despite the low variety in types — brings even greater satisfaction. Attacking the variants results in ripped suits, broken accessories, explosive equipment, and other actions that favor combat and gain rewards.
Skill tree no: deckbuilding!
Forget everything you know about character progression. In Dead Island 2, the traditional skill tree gives way to the deck building system. Throughout the campaign, side quests, and exploration, players will find cards to add valuable attributes to their build.
Perks include improvements to survival, zombie hunting, exploration, and the use of a brand-new resource in the franchise: Fury. This function allows the protagonist to access internal powers, capable of expanding his strength and speed significantly.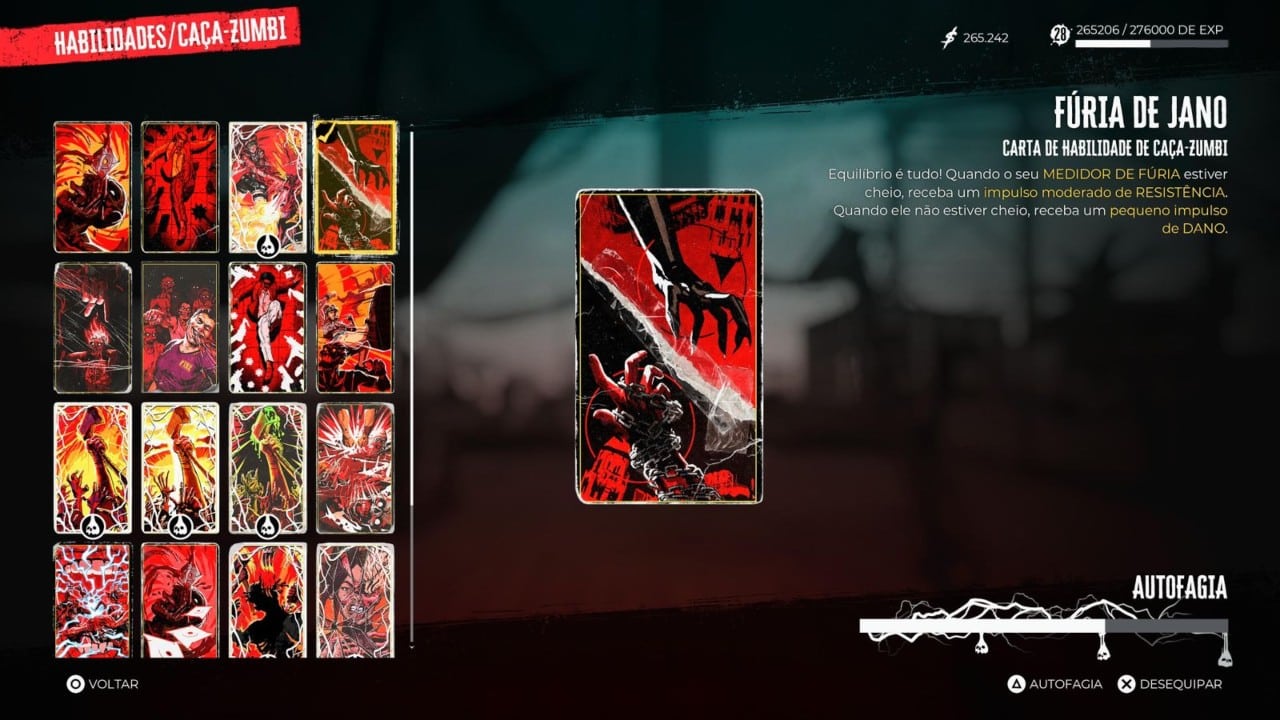 Source: André Custodio
At first, the amount of cards for the formation of decks is very limited, but the slots increase when key moments of the campaign are completed. Thus, fans can enable super fun flying, gains in resistance, damage and many other benefits.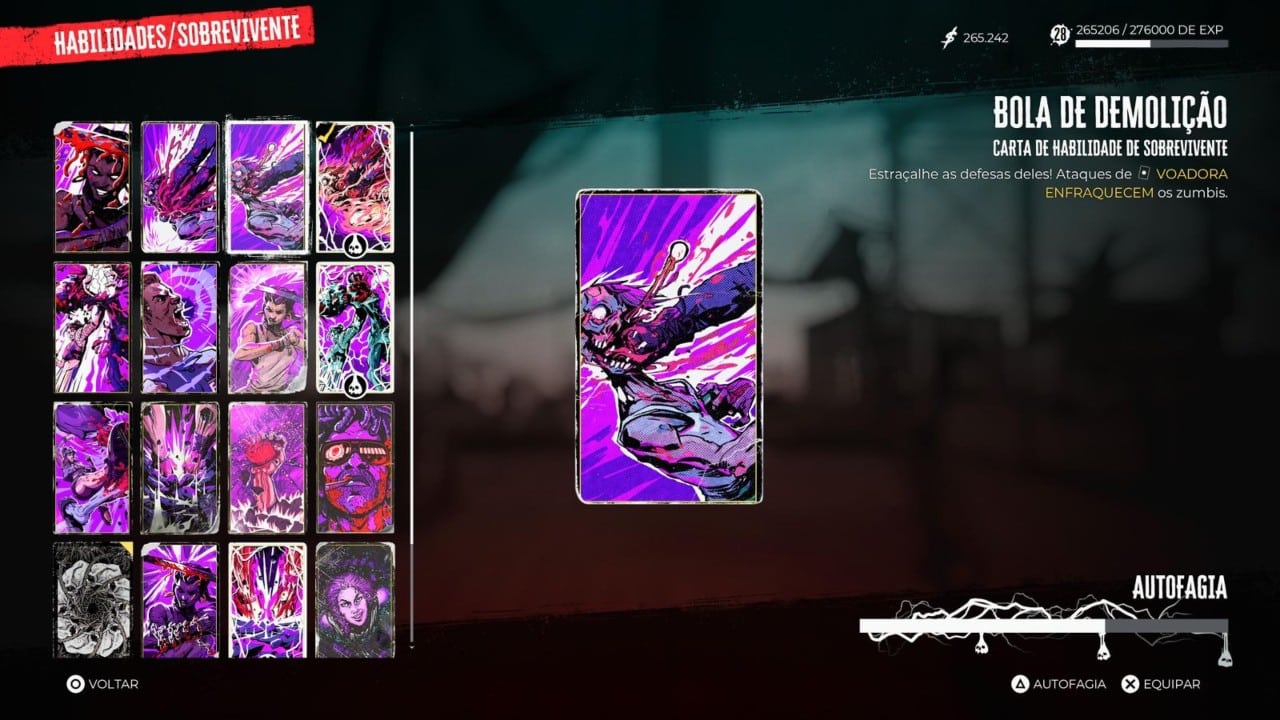 Source: André Custodio
If this system is properly combined with weapon modifiers and the protagonist's level, Dead Island 2 becomes much easier. It is worth remembering that the game does not have difficulty modes and includes an adaptable gameplay according to the maximum level of the player.
One is cool, but two is insane
Playing in single player mode can be a little tiring, especially when you're still at low levels and with low rarity weapons. Already experiencing Dead Island 2 in cooperative for up to three participants transforms the game completely into an insane and brutal action.
Natively, the game is running at 60 FPS and without clear loss of resolution in 4K. These settings and overall performance carry over to the online mode, as it flows very smoothly and lag-free to the host — the guest needs some time to adjust to the host lobby, apparently.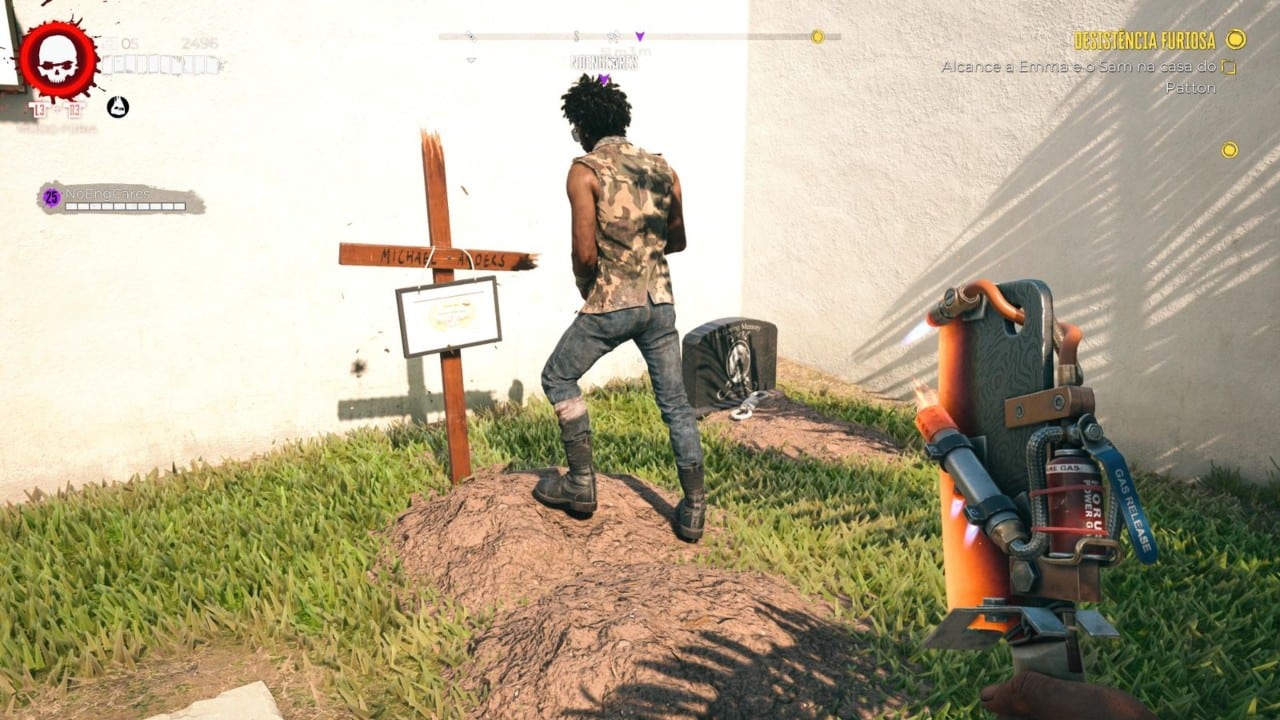 Source: André Custodio
In online, the entire campaign can be played as a team, as well as side activities and exploration. Equipment can be shared between the team, but the resources available on the map appear in the same amount for all participants.
Regarding the difficulty levels, there is an "up" adjustment. This means that the zombies' HP practically doubles, while they become more resistant, appear in greater numbers and come up with more powerful variants, such as Howler, Shredder, Butcher and Drooling.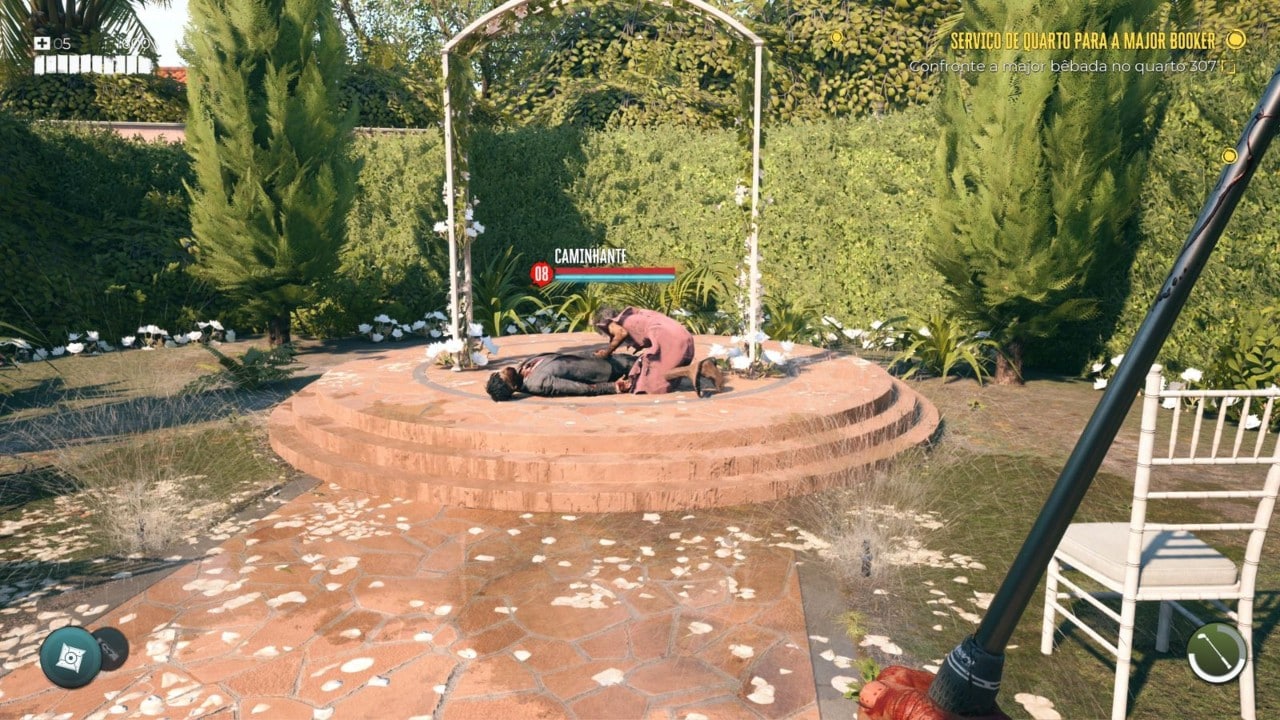 Source: André Custodio
Matchmaking happens quickly and enables public or private sessions. Additionally, players can choose to stay in single player with co-op disabled, preventing others from joining mid-match and expanding challenges.
Another addendum is that challenges become shared, as experience is gained. If your friend kills zombies, explores points of interest, completes quests and triggers objectives, all records will also go into your diary.
Dead Island 2: vale a pena?
Dead Island 2 is a huge leap forward from the first game. Despite being repetitive especially after its second half, the game entertains thanks to the revisited combat, the dismemberment system and the deckbuilding-based tree.
The game is very worthwhile for lovers of the genre, regardless of whether they enjoy FPS gameplay with firearms or melee combat — all these mechanics work well. On the new generation, bugs are almost non-existent and the optimization in general is something to be commended.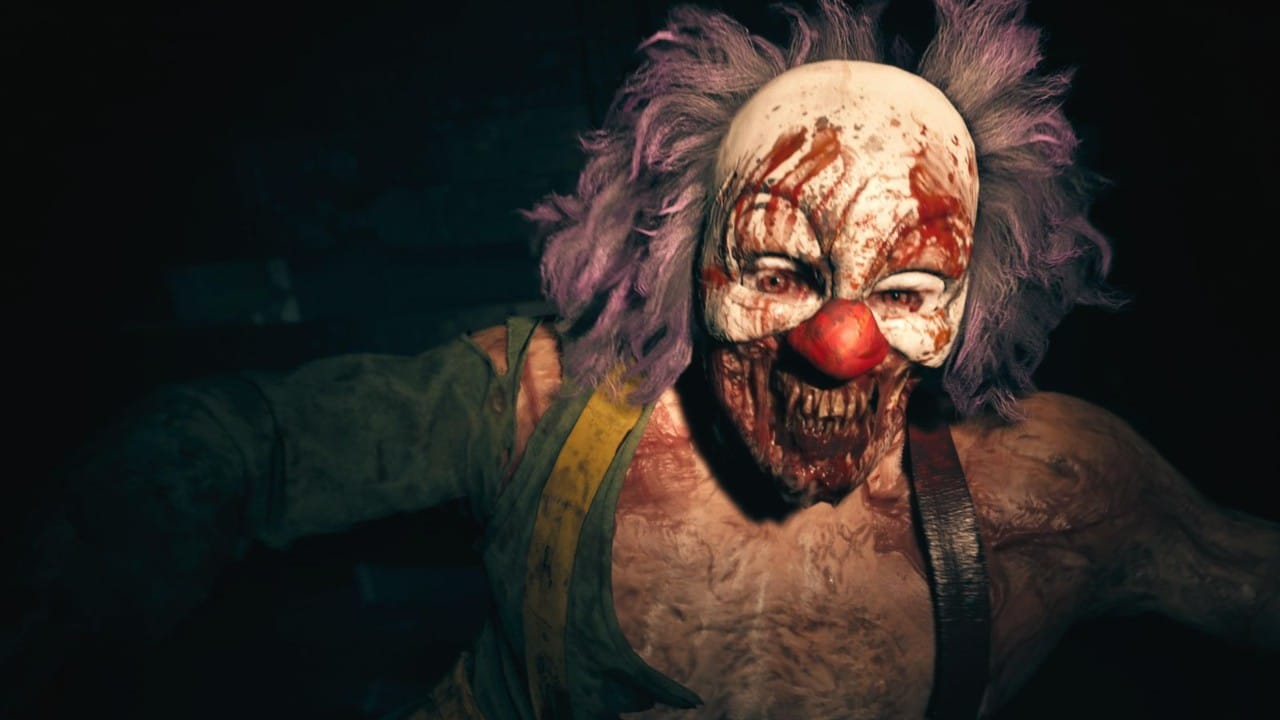 Source: André Custodio
Despite this, fans looking for new things may be bothered by the shallow story, with the characters that are not pleasant and with the excess of going back and forth to fulfill secondary objectives. All things considered, Dead Island 2 really is above average and deserves a little more attention from the community.
The title is available for PS4, PS5, Xbox One, Xbox Series and PC. On Amazon, it can already be purchased in its Day One version and is, at the moment, the first best-selling PS5 game on the site.