You arrive at Grater Marrow in your old fishing boat. There is an advertisement on the control desk. The city is looking for a new fisherman. But suddenly you come across one of the dangerous cliffs. Just crash and darkness. You wake up in a city. The local mayor will welcome you and donate one of the old town ships for interest. He warns you of the mysterious fog that rises in the waters here at night, but you soon board your new barge and set out to explore the strange and beautiful world of Dredge. This cruise is worth it.
source: Team17
Fish Tetris
You will spend most of your time on the water. You will drive around the open map and you will gradually look into five regions, each of which has its own specifics. But most of all you will be fishing. They are basically divided into several categories according to their occurrence. Some live, for example, in shallow water, others in the ocean, and others only in overgrown places in swamps or in volcanic areas.
In order to catch a fish at all, you must have a suitable rod. Then just complete a simple mini-game and the coveted catch is on board. Fishing is all the more comfortable because they can't run away from you. If you miss a slice in one of the three types of fishing mini-games, only one thing will happen: Fishing will take longer. When you want, just wait. The fish will slowly but surely get on board on its own. Thanks to this, even the rarest catch just needs to be found and you will get it for sure. If, of course, you manage to stack it on board.
The ship's inventory is divided into squares and you must have the necessary rods, engines and lights stacked in it. Each object has a specific shape and occupies a different number of squares. In addition, the fields where this or that gadget can be installed are limited in size. It's just that even the subsequent catches have some form. It is not difficult to place a fish that is on two squares. But what about a shark that takes up four squares and still has one fin up and the other down? That's a bigger problem. Especially if you don't want to take it on board by itself, but pack a few more minnows with it.
So you will spend quite a lot of time in the inventory. You will often release fish to make room for a more valuable catch. How many times has it happened to me that on my way home I came across, for example, a wreck of a ship full of valuables or iron that I needed to improve the ship's hull. A few fish flew overboard and were replaced by something that was more useful to me at the time than dollars from the local fishmonger.
Fortunately, Dredge doesn't try to frustrate players in this regard either. On the one hand, you have a storage area where you can safely put your catch while rearranging your inventory, and in addition, there is a large chest in each port for things that you don't sell. Anything can be stored there, so you're sure you won't lose your loot. So you will mostly sell the fish on site. Already because it deteriorates, but again very slowly. The only time my shipment went bad came when I wanted it myself. Maybe because of a side quest where they wanted me to bring a specific fish just before it expired.
Home on the water
I already mentioned that you earn money for fish and also hunt for resources. What would it be for other than upgrading your trusty ship. You have to engage in this activity throughout the game, which is fine because it's a well-designed system. In fact, always when you start to feel that you have little space, the expansion of the cargo area comes. When your hull is taking a beating among dangerous reefs, it's time for an upgrade. It's the same with rods. When you get to a new location, you're probably at the point in the simple upgrade tree where a new rod opens up to make your job easier. If you're missing something, just take a moment to look.

source: Black Salt Games

The ship adapts under your hands and never gets frustrated, while also offering new gameplay elements all the time. First come the crab traps that you throw out of the boat, and then you just have to pick your catch from them. Then a net that drags behind the boat and catches fish by itself, and then of course the supernatural powers. This is not just any ordinary fishing.
Again, new things come when you need them the most. Tired of trudging back and forth at a slow cruising pace? You get a boost. Going back and forth across the map of regions is getting a little annoying? Slide here with the teleporter to the base location. There are of course more abilities, but I don't want to reveal all of them.
An amazingly beautiful world
The first thing that strikes you about the Dredge is the styling. It really makes the game look great. When you hit the waves and watch the sun rise above the surface, unexplored places emerge from the fog in front of you, or dolphins start jumping next to the boat, it is total relaxation. You are just sailing, enjoying the beautiful world around and peaceful music playing in your ears. One would almost forget that Lovecraft. But the game won't let you. She's not trying to scare you, but her world is unsettling. It is the idyllic atmosphere that only intensifies a certain ominousness in the background.
It doesn't take long before a fish catches your bait for the first time, which is far from normal. You bring her to show at the port, and the trafficker buys her, only to lock herself in a cabin with her, where very disturbing noises emanate from then on.
You come across an abandoned ship in the middle of the ocean. A mysterious frightened man tells you that he has to deliver a package to the city, but something strange haunts him at night. So you take over the box and drive it away. The man at the port happily takes over the slimy package with something moving inside, and you never see him again. Dredge is full of such little stories.
But then, of course, you will meet strange monsters first hand. The mayor's warning against nights at sea is not without reason. Once the fog falls, it's neck and neck. Red clumps hiding strange things begin to appear above the surface. Here, a tentacle will spawn next to you and try to sink you. Other times, crows will fly in and pounce on your catch.
But mainly your senses will begin to deceive you. The cliffs appear just in front of the ship and only if your flashlight shines on them, otherwise you have no chance of seeing them at all. You go to see the ship when it suddenly turns into a huge fish that starts chasing you. On the islands, you see houses that disappear once you get close enough, and lots of other stuff.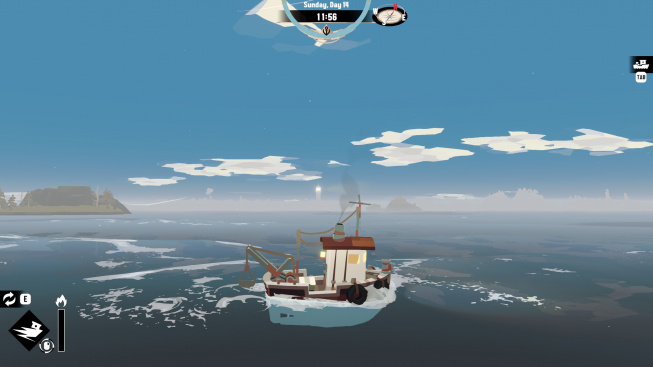 source: Black Salt Games

Plus, your panic gauge rises. This can only be reduced by resting in one of the numerous ports. Because if you don't rest, the strange visions will stay with you even in daylight. However, I was only startled once during the entire game, and that was when a ghost shark came out of nowhere during the day.
Dredge's biggest draw is the archipelago's strange inhabitants and their stories. The main storyline is mainly there to guide you through the regions and direct your steps. During it you will collect artifacts for a mysterious collector. Each of them unlocks exactly one of the ship's abilities, but mainly it lies in a different part of the map, and finding it connects the main story of that place. For example, you will uncover the fate of a scientist whose research station was sunk by a huge thing from the depths. You will help take revenge on a downed pilot in the swamps who lost his friends because of the monsters there.
But you will also perform secondary tasks. They are not innovative in terms of content, but thanks to the well-written texts that underline the entire game world, you will want to fill them. In understanding what the characters are hinting to you and in the exploration itself, there is a hidden other end to the game that is definitely worth exploring.
Exactly to measure, even with beauty spots
Dredge is not a complicated game. On the contrary, most of the activities in it are highly relaxing. At times I found myself wishing that some of the gameplay mechanics were more in-depth. Sometimes from the middle of the game I didn't have to deal with rods. I just had two clipped on that managed to catch everything. I've sunk maybe once, and that was only because I overheated my engines and then a beast of the deep hit me at night.
Even so, I have to say that the Dredge design is actually great. It doses everything exactly so that the game does not start to slow down, and during its approximately ten hours it still brings fun. If you happen to stumble across its waters, it gives you the opportunity to catch all kinds of fish, including their mutated variants. There are a respectable 128 of them floating in all the seas, rivers and swamps, and when I finished the game I was about half way through the counter.
In a bit of a nit-picky way, I can criticize the game for only three things. The first are the cities themselves. I wished it was possible to switch between shops and characters directly. Unfortunately, you have to go back to the city screen every time, click on the merchant, click through his repetitive opening message, and so on and on. For example, when you sell fish, repair a boat and still want to improve something, the whole process becomes quite annoying. In the same way, you can't have a rod just thrown on board or in the harbor. So if you are exchanging them, you have to switch between inventory and storage.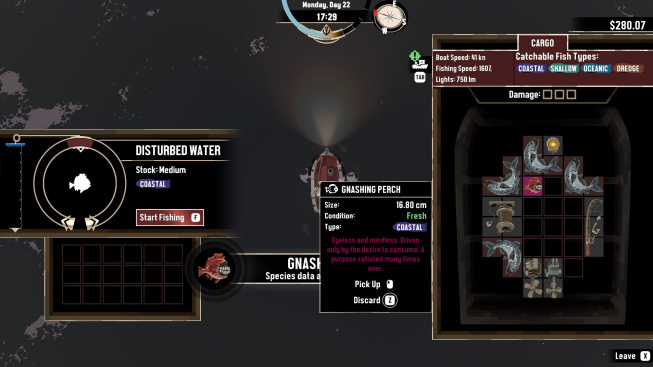 source: Black Salt Games

The second pain can be the collision model. He sometimes gets angry and will break your ship with a light tap. Which means damaging components and removing inventory fields. This happened to me most often when leaving the port. In one in particular, the game pointed my nose right at the coast with regularity, and because of the improved engines, I had to do something to slow down the starting ship.
There were a few times that I had to turn the boat back with a sigh and click through to the repairs, only to try my luck again with the unfortunate local coast. This mechanism was most evident in the last location, which is not nearly as open as the previous one, so you're still sailing through tight turns. Not to mention the fish that come after you to surround you and… I won't say it anymore. Just wait.
I have one last caveat about the main story. This one is quite clear at first glance. If you don't reveal the hidden ending, it will remain so. Unsalted, non-greasy and completely predictable. The characters in the main locations are great and so are the individual location chapters. Only what covers them deserves a little more care.
A beautiful, if slightly shallow game
Dredge swallows you up and won't let you go until the credits. Its basic gameplay loop is simple yet addictive. One more turn for the fish to buy better lights… The beautiful and diverse archipelago is a joy to explore as well as uncovering the secrets and strange stories of its inhabitants. It might not even need to have a damage system and occasional pop-up enemies.
Still, I would sometimes like if the game mechanics were a little deeper and more elaborate. In the end, however, everything clicked into place for me and I realized that everything is sensitively designed exactly so that one does not get bored and enjoys the relaxed atmosphere of the strange. I'm glad that once again someone managed to create a game that understands that horror movies are not just about cheap scares and slow-motion. Dredge bet everything on the atmosphere, and this card works out perfectly for him.