Apart from other very notable innovations (such as the announcement of the changes of rewards, the end of the TOTW, the time change for FUT Champions o your additional rewards for a limited time), an SBC player has also arrived today in FIFA 23 Ultimate Team. It's Loïs Openda POTM from Ligue 1, It will be available until May 25. And it has quite interesting statistics. Although unfortunately, it has not improved its natural stars.
Positions: DC and SD. His SBC currently costs about 68,350 coins on the general market and 71,300 on PC. He has three skill stars and a bad leg, high/low work rate, Balanced Body Type, is 1'74 and right-handed.
FIFA 23 – Analysis of Loïs Openda POTM from Ligue 1
From statistics it seems like a great card, the upgrade with respect to the TIF that we already recommend It's not very big but it gets a couple of extra passing points and a +3 to strength. Still, though, he's let us down a lot than a POTM attacker. do not upload your three natural stars of skills and bad leg despite the fact that we are at the end of April.
Failing in those respects, He will not have as many resources to mislead the enemy center-backs in a one-on-one situation. And against smart rivals who know this weakness, it could be much more limited than other alternatives.
Openda POTM already has very interesting attributes. Besides that, due to its perfect rhythm in a natural way, if it will be a starter we can use it with chemicals as an Artist to raise the pass and dribble at the same time, or Finisher to improve shooting and dribbling at the same time. Depending on what we prefer, we can enhance some qualities or others.
If we want him to be a great assistant, very powerful in close combat, even more electric with the ball or quite reliable when shooting; we can do it with style. That's why its statistics are very convincing, even more considering its low cost.
But failing in the stars, Openda POTM could feel limited inside the box against the most competitive rivals. Because he will not threaten with his left foot nor will he be able to perform most of the tricks of FIFA 23 Ultimate Team. It is true that he has Shooting with the outside and Shooting with quality, but the ideal would be for him to reach four with a bad leg.
And due to the serious defect mentioned, we would not use him as a center forward. Because in even matches, his lack of resources could be a problem. Although As a winger or even as an MCO behind several DC's, it could be a good option (same as with your TIF). Because in that role, the lack of stars will bother less. And we can take advantage of their interesting numbers

Medina and Fofana are his most notable teammates (cards thanks to FifaRosters.com).
So is it worth it?
It was a big disappointment that he didn't upgrade his stars and the stat upgrade over TIF isn't impressive. But if you are soon receiving non-transferable stockings or you already have them, you could allocate some to this SBC to use it as a revulsive by band. Apart from the fact that he also convinces us as a low cost starter if he will be a winger or an MCO behind two forwards.
His three of skills and bad leg are an obvious weakness and that at certain times could be quite annoying. But from the side or as a midfielder behind several attackers it will not hurt as much. So, for a fairly low cost, you could enjoy its full stats.
By having Body Type Balanced, your driving will not be spectacular. But as he's only 1'74, he's strong and his dribbling numbers will be very good with certain styles; on the field he will have dribbling ability and grappling resistance at the same time. AND depending on your preferences, you can make Openda POTM a luxury assistant or someone very reliable when kicking with his right hand.
Apart from the fact that as a substitute he should perform very well against tired defenses. You could use it to do damage on the run starting from the sidetaking advantage of the physical power mentioned and his perfect rhythm.
So, even though it doesn't improve its stars and the stats upgrade isn't brutal, we recommend Openda POTM as a revulsive or as a cheap but very useful starter if during the game he will play on the wing or as an CAM behind several forwards. While we do not recommend it if it would be DC in game, because in that case the three in skills and bad leg should bother much more.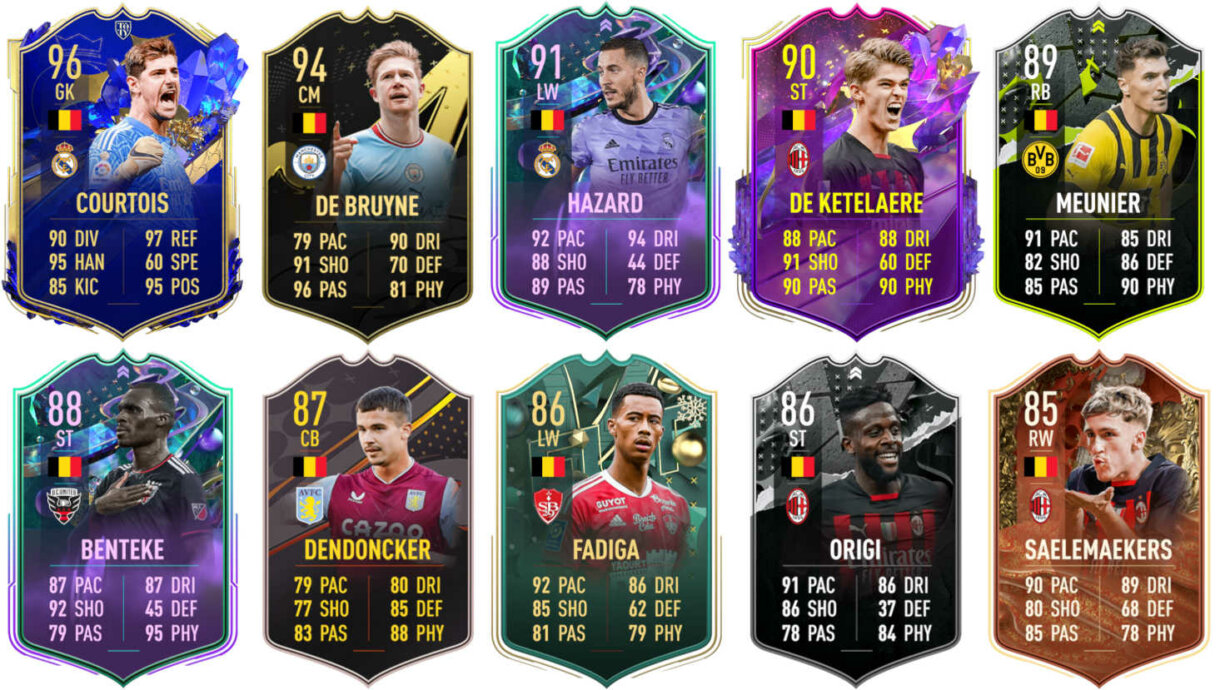 His nationality had more prominence in other seasons of Ultimate Team.
Recommended Chemistry Styles
Artist: Naturally he already has very decent numbers for positioning (93), finishing (94) and shot power (89). So he could score quite a few clear chances, and that's why we would apply this chemistry to raise the pass and dribble at the same time. His vision would hit 95 and his long pass would hit 99. While agility would hit perfection, reaction would get a +5 to go up to 92 and dribbling would go +8 to go up to 95.
finisher: Another valid alternative if you want it to be very reliable when shooting, in exchange for giving up the pass boost. He'll keep his solid 87 in sight, while positioning and finishing hit perfection. It will also bump up his shot power to 93, agility to 99, balance to 98, and dribbling to 99 (brutal numbers despite their low cost).
SBC Solution
Challenge 1: Belgium
Reward: On mix of Premium Players.
Min. 1 player from Belgium Star value min. of the team: 83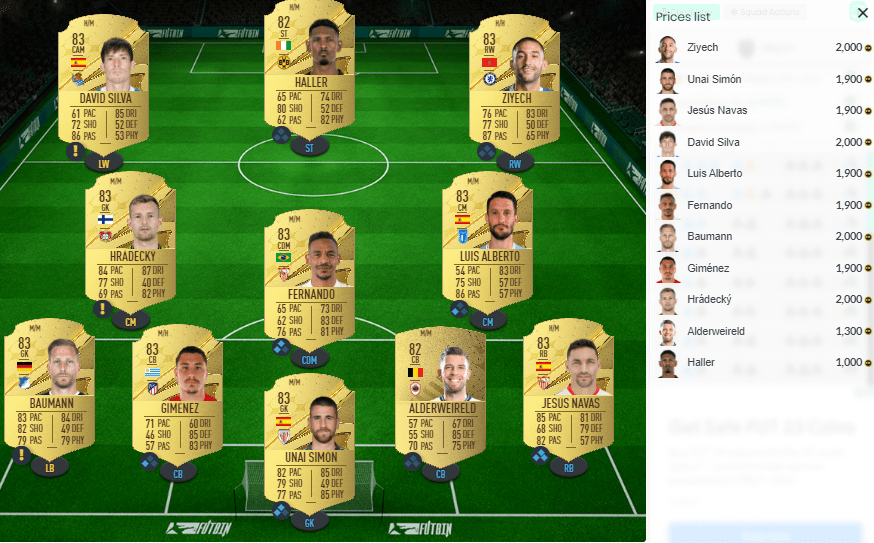 19,700 coins in the general market and 20,600 on PC
Challenge 2: Ligue 1
Reward: Packet Small mix of Unique Players.
Min. 1 player from Ligue 1 Min. 1 player: Team of the Week (TOTW) Star value min. team: 84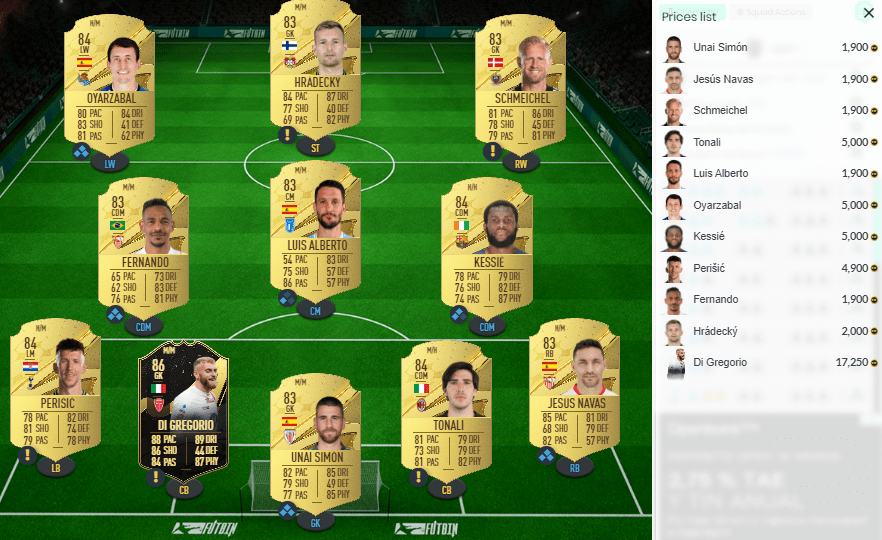 48,650 coins in the general market and 50,700 on PC
We take this opportunity to remind you that the Ligue 1 Openda POTM SBC will be available until May 25. Here are the articles about Gundogan y Ben White Showdown. And if you want to know when we upload content about FIFA 23 Ultimate Team, You can sign up for the Telegram broadcast channel. All the best!