It may not have been fully officially confirmed, but it seems obvious that the TOTS event will start this Friday, April 28 in FIFA 23 because FUT Champions will change its schedule due to the event and because a group of milestones is called "FUT Champions TOTS Opening Day". This year we will also be able to get Team of the Season cards in Squad Battles and Division Rivals, and EA Sports has already clarified what we should do for it in my own post. So here we are going to explain it.
FIFA 23 – TOTS in Division Rivals and Squad Battles
Division Rivals
In Division Rivals we can get secured TOTS cards by two methods. First of all, the IF player pick we receive weekly in the Elite Division rewards will be replaced by a red TOTS player pick. And there will be cards from all Teams of the Season that have appeared to date In the Milestone rewards we receive at the end of a FIFA 23 Ultimate Team season, players who finish in Division 5 or worse will receive TOTS loaned as rewards . AND if you get to Division 4 or better then you will get red guaranteed TOTS. They have not yet clarified how many TOTS cards we will get in each Division and in each Milestone level, We will have to wait for the rewards to be updated to find out.. Perhaps we will find out with the change of season of FIFA 23 Ultimate Team, this Thursday, April 27 in the morning of Spain. Although they have not commented clearly, I guess all this content will be non-transferable.
The player pick of the weekly Elite rewards will have red TOTS cards instead of IF's (as it happens with FUT Champions).
Squad Battles
To get rewards with ALL, you will simply have to reach silver or higher in the weekly ranking. But just like with Division Rivals, they haven't clarified what we would receive at each specific rank. Only from silver we will have rewards. Squad Battles Rewards will be updated for TOTS next Sunday, April 30, when the new event week begins. And they have already clarified which leagues will be the insured TOTS of each week.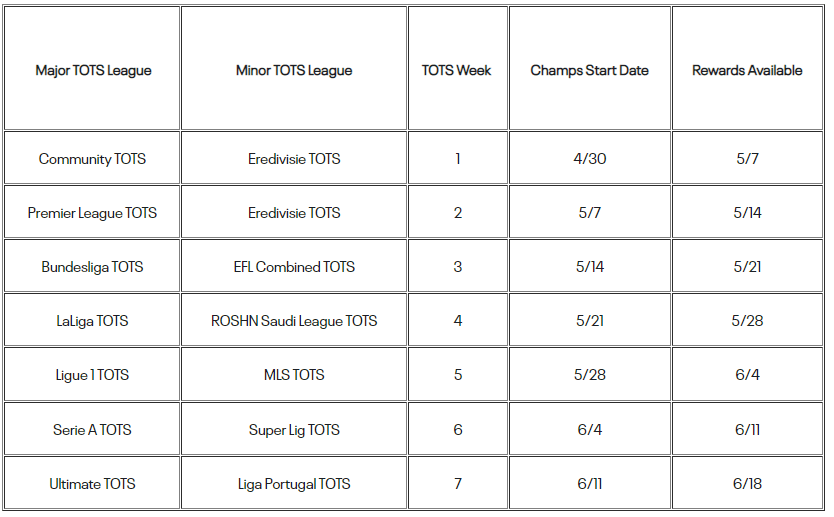 The order of ALL is the same for FUT Champions.
I leave you here the Openda POTM article of Ligue 1. And if you want to be informed about the news of FIFA 23 Ultimate Team, you can join the Telegram broadcast channel. All the best!