Final Fantasy XVI has received its largest and most comprehensive presentation to date. On Thursday night, the game appeared during Sony's State of Play broadcast, where fans were treated to well over 20 minutes of gameplay and new details.
Final Fantasy XVI.
PlayStation
In the video that you can see at the top of the article, game director Naoki Yoshida takes us through most of what Final Fantasy XVI has to offer. Among other things, here is a proper review of the battle system, which we have only seen glimpses of until now.
As is well known, players must control protagonist Clive Rosfield through the game's hectic and colorful battles. Mostly you fight as Clive, but the hero can also transform into various Eikons – huge beasts – in need.
Over the course of the game, you learn a bunch of attacks and characteristics, and occasionally get helpers with you in the fight. Clive's friends are controlled by the game, but you also have the dog Torval with you, which you can command to attack or assist Clive.
For players who may not be as experienced with this type of action role-playing game, Square has introduced various accessories that help in combat. For example, you can equip Clive with an item that makes you dodge attacks automatically or one that simplifies attack selection.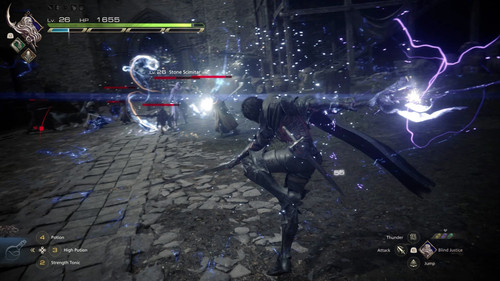 Final Fantasy XVI.
PlayStation
As far as the game map is concerned, the developer seems to have taken some inspiration from Breath of the Wild. The map is filled in as you discover new places, and you can move to places you have visited before at any time. Side quests you can pick up are also shown on the map, so you can move straight there without having to run back and forth.
Square still has more to show, says Yoshida, from, among other things, side missions and so-called "endgame" content – that is, things you can puzzle with when you reach the end of the game.
Final Fantasy XVI launches exclusively for PlayStation 5 on June 22.
READ ALSO: Final Fantasy XVI boss would like the game to come to PC eventually »