OSLO (Gamer.no): On Saturday evening, the Norwegian games industry gathered at Byens Tak to choose the best Norwegian games from 2022. The game award has long been an annual event, which honors the Norwegian industry's contribution from the past year. This year, the games received awards in nine categories.
The game prize is divided between two juries: a professional jury and a press jury. The latter selects the winners in the categories "Game of the year", "Game of the year – small screen", "Best newcomer" and "Best fun for all". The winners in the five remaining categories are decided by the expert jury, which consists of representatives from the gaming industry.
(For the record: article author served as Gamer.no's representative on the press jury.)
ICEWall received the highest award
This year it was ICEWall from solo developer Erlend Kirkebø that was named game of the year. ICEWall mixes rogue-like elements with a gameplay base that leans heavily on the arcade classic Space Invaders. The game also won the award for "Best Game Design".
Mrs. Sem's choice.
Occasionally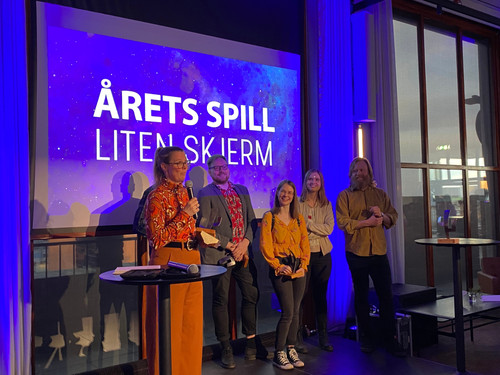 Mrs Sem's choice received a total of three awards.
Audun Rodem, Gamer.no
The big winner of the evening was nevertheless the visual novella Fru Sem's choice from the developer Tidvis, which secured a total of three awards: "Best innovation", "Best newcomer" and "Game of the year – small screen". Here you will experience everyday life as a widow in Christiania in the 1820s trying to keep the fabric shop open, with all the obstacles and opportunities that reflect the times.
Otherwise, the killer game Killer in the Cabin from Games People Play won the award for "Best Technology", Cosmo Clash from PUNY Games won "Best Sound" and "Best Visual Expression", and Mari and Bayu from Skinni Bandit secured the award for "Best Fun for everyone".
Below you will see a list of all nominees, with the winners highlighted.
Best technology:
Killer in the Cabin (Games People Play)
Mari and Bayu (Skinny Bandit)
Viewalk (Viewalk)
Don't Remember (Boo! Games)
Kartoffl (Breach)
Best visual expression:
Kartoffl (Breach)
Cosmo Clash (PUNY Games)
ICEWall (Erlend Kirkebø)
Lulu's Temple (Agelvik Games)
Mari and Bayu (Skinny Bandit)
Best Game Design:
Kartofl (Breach)
Cosmo Clash (PUNY Games)
ICEWall (Erlend Kirkebø)
Lulu's Temple (Agelvik Games)
Mari and Bayu (Skinny Bandit)

Best Sound:
Cosmo Clash (PUNY Games)
Don't Remember (Boo! Games)
Mari and Bayu (Skinny Bandit)
Lulu's Temple (Agelvik Games)
Gun Devil (Agelvik Games)
Best fun for everyone:
Killer in the Cabin (Games People Play)
ICEWall (Erlend Kirkebø)
Kartoffl (Breach)
Mari and Bayu (Skinny Bandit)
Cosmo Clash (PUNY Games)
Best innovation:
Mrs. Sem's Choice (Occasional)
Killer in the Cabin (Games People Play)
Mari and Bayu (Skinny Bandit)
Viewalk (Viewalk)
Kartoffl (Breach)
Best Newcomer:
Mari and Bayu (Skinny Bandit)
Mrs. Sem's Choice (Occasional)
Cosmo Clash (PUNY Games)
Kartoffl (Breach)
The Dream (Paradice Entertainment)
Game of the Year – Small Screen:
Pode Kids (Hencman & Goon)
Mrs. Sem's Choice (Occasional)
Ascending – A Globsters Story (Pixfork Games)
Rusken vs. The Cheater (Megapop)
Criminal Code (NRK)
Game of the Year:
ICEWall (Erlend Kirkebø)
Gun Devil (Agelvik Games)
Mari and Bayu (Skinny Bandit)
Mrs. Sem's Choice (Occasional)
Killer in the Cabin (Games People Play)