After two wins and two losses, only Ukrainian B8 stood between Apeks and the organization's first Major participation. With everything to win, led by our own Joakim "Jkaem" Myrbostad and the Lithuanian Justinas "jL⁠" Lekavicius, it was a battle that will go down in the history books for Norwegian Counter-Strike.
Ready for Paris
In a match that wavered back and forth, it took a full three overtimes before Apeks could put their hands in the air on Vertigo, B8's map of choice. During the match's second map, Anubis, there was no longer any doubt. Apeks wanted it the most and, after eight straight rounds on the CT side, cheered for advancement to the very last Major in Counter-Strike: Global Offensive – the first in the club's history.
Also read: 777's reduction in Counter-Strike may pave the way for others.
We had a chat with Apek's manager, Kenneth Gaupseth Johansen, to hear what the advancement to the last Major in CS:GO means for the Norwegian club.
– Qualifying us obviously means an insane amount for the club. This is a goal we have had ever since we started the club, but it obviously became a more realistic goal when we brought in an international lineup. This shows that we are doing a lot right, and the financial upside of that is of course a huge bonus.
Joakim "Jkaem" Myrbostad was in terrific form for Apeks against B8.
Josip Brtan/HLTV.org
Finally it succeeds
When Apeks secured a place among the best company in the Counter-Strike world, it proves one thing: Hard work and dedication pay off over time. In recent years, the Norwegian organization has tried its best to crack the code. After many ups and downs, the signing of Damjan "kyxsan⁠" Stoilkovski seems to have finally loosened up for the Norwegian venture.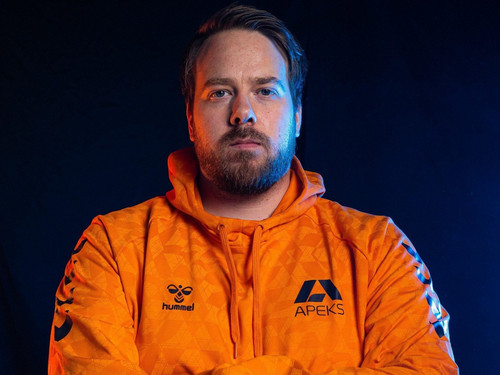 Apeks manager Kenneth Gaupseth Johansen hopes for the Legend stage for Apeks.
Fahil Anweri / Apeks
– We have worked for a long time with a good core now and had a long and intense period to recruit new IGL ("in-game leader", editor's note). We probably tried around 6 or 7 pieces before we decided on Damjan "kyxsan⁠" Stoilkovski. We have probably stepped up the game a bit when it comes to recruiting players.
Not discussed the Major yet
Only days after the promotion, Johansen and Apeks have not had time to discuss what goals the club has for Paris. But the coach admits that the legendary stage is tempting.
– We have been fully focused on RMR and not properly discussed much about the Major and what objectives we have there. Personally, I think we can do a lot of damage down in Paris. It would have been incredibly cool to advance to the Legends Stage.
Also read: "Taiga" to Major with a cry of distress.
Apeks has had good help from its academy coach Torbjørn "mithR" Nyborg in the preparations for both the closed qualification, as well as the RMR tournament in Copenhagen. Nyborg will continue working with the main team until the Major in Paris has ended.
Two out of three Norwegians ready for the Major
In Paris, Apeks enters the Challengers Stage. There they can meet, among others, Norwegian Håkon "Hallzerk" Fjærli and his Complexity, who are also ready for Paris. Fjærli and co delivered a strong RMR tournament in Mexico, going through their qualification with three wins and one loss.
This means that both Apeks and Complexity are two of the 16 teams that will fight for the very top legend spots during the Paris Major.
Håvard "rain" Nygaard and his FaZe Clan had a surprisingly poor RMR qualification and were eliminated after two wins and three losses. This means that the big club must play the Last Chance Qualifier at the weekend, where they are, however, favorites to take the last place to Paris.
Read also: The Telialiga changes its name