News culture It's DC's biggest failure to date: neither the sequel nor the reviews were good, but its director prefers to make fun of it
Published on 05/18/2023 at 20:49
Share :


Shazam 2 has been out for a while and unfortunately for DC Comics, that's what's called a complete flop. The reviews aren't good, nor are the box office numbers… but the director seems to choose self-mockery.
A superhero with flab
Shazam! The Rage of the Gods – which we will more simply call Shazam 2 – is not really what we call a success. The first Shazam! had already received a checkered reception, but all in all decent: its box office score was 367 million dollars, an honest figure, but far from being fantastic for this kind of Hollywood production and, what is more, for a superhero movie.
A sequel was ordered anyway, which landed on our screens on March 29th… and it crashed violently face down. The reviews of the press are not good (only 47% on Metacritic, that is to say!) and the public did not respond present either.
If you want numbers, know that Shazam 2 has earned "only" $ 133 million at the box office. Wonder Woman 1984, already considered a failure, had however done better in 2020 with 169 million dollars.
No violence, it's the holidays
Without surprise, viewers have not been kind to Shazam 2 on the various rating platforms. To recontextualize, the principle of the film is based on the ability of Billy, a young teenager without history, to transform into Shazam, a superhero with divine power while keeping his childish character (which normally gives rise to situations rather funny).
The problem is that the contract is not even respected according to a surfer, who left a murderous criticism on a website.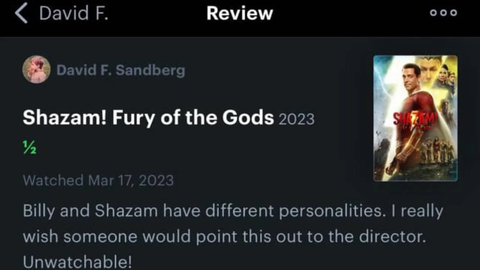 Billy and Shazam have different personalities. I really wish someone could tell the director. The film is impossible to watch!
And precisely: the director, David F. Sandberg, came across this message which concerns him directly. Rather than respond to him with an equally acidic comment, the filmmaker has… shared the criticism on his social networks. As a gesture of approval and above all, of self-mockery. From there to think that he knows himself that his film is not good (or that the result stems from decisions of DC and Warner which were imposed on him), there is only one step.
Find out more about the DC Comics universe