In an interview on stage during the World Economy Summit, Microsoft CEO Brad Smith says that the company has information that Russian intelligence and military groups are trying to use gaming communities to spread information. This is reported by Gamesindustry.biz, among others.
Brad Smith is the CEO of Microsoft. The picture is from another occasion.
Web Summit, CC BY 20
The statement comes in connection with the Pentagon leak that has been in the media last week, where a young man in his 20s is said to have leaked apparently classified documents via a Minecraft-focused server on the gaming community service Discord.
The leak contained several sensitive details about the war, including information on aid to Ukrainian forces, reports on China and reports on Israel's intelligence service.
In light of this, Smith was asked if he worries about leaks and security threats in games since Microsoft is betting on the gaming segment, including with the planned major acquisition of Activision Blizzard.
READ ALSO: Russian security police ridiculed for mixing SIM cards with The Sims »
– Will use game communities for dissemination
First, Smith points out that gambling itself is not the potential danger here. Playing does not pose a threat. But he is clear that it is the online communities that establish themselves around the games that have become a target for Russian intelligence.
– In recent months, our experts on digital threats have discovered attempts by the Russians to get into gaming communities, and we have discussed this with the authorities. It's The Wagner Group [en russisk paramilitær organisasjon, red.anm]it's Russian intelligence, and they're using this as a place to spread information, says Smith from the stage.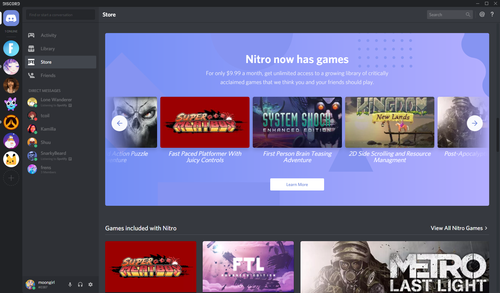 Discord is among the largest online community services for gaming enthusiasts.
Discord
Smith points out that it happens in several gaming communities. The Microsoft boss is nevertheless clear that he does not see where the documents were shared as the biggest problem here, and claims that groups like this are going to publish information in other forums anyway.
– It just so happens that gaming communities are a good place to get information spread, and eventually it ends up with journalists, claims Smith.
On Thursday evening, the FBI said that they have arrested a suspect in the leak case. The suspect is said to be a 21-year-old man who works with intelligence in the National Guard, reports NRK.
The Minecraft channel in question will consist of about two dozen players, all of whom have a penchant for weapons, military equipment and God, reports The Washington Post. It is the leader of the group, known as "OG" who claimed to be in possession of classified secrets, and who is said to have started sharing these when the other members expressed doubts.
READ ALSO: Ukraine asks Microsoft, Sony and Valve to stop selling Atomic Heart »