After releasing the trailer for Mortal Kombat 1, NetherRealm Studios presented details of the available versions of the game. Among the highlights, attention is drawn to the physical collector's edition, which includes surprising items with the new aesthetics of the game and with the idea of ​​"reboot".
The "blank page" mentioned by Liu Kang is not just a catchphrase, but a concept that must be part of the essence of the game. This proposal served as the basis for the manufacture of a collector's set, developed in partnership with the design company COARSE.
According to NetherRealm's post, Mortal Kombat 1: Kollector's Edition includes custom markers, a collector's box, an exclusive steelcase and the game's Premium physical media. However, the main attraction is the statuette of Liu Kang, measuring just over 40 cm in height.
Additionally, the edition guarantees in-game downloadable rewards. Whoever buys it gets, at no additional cost, the Kombat Pack, a variant skin for Liu Kang, 2700 Crystal Dragons (in-game currency) and Shang Tsung as a playable DLC character. Check it out below:
Fonte: NetherRealm Studios
Details of digital versions of Mortal Kombat 1
See below a table with all the information about the contents of the Standard and Premium editions of Mortal Kombat 1: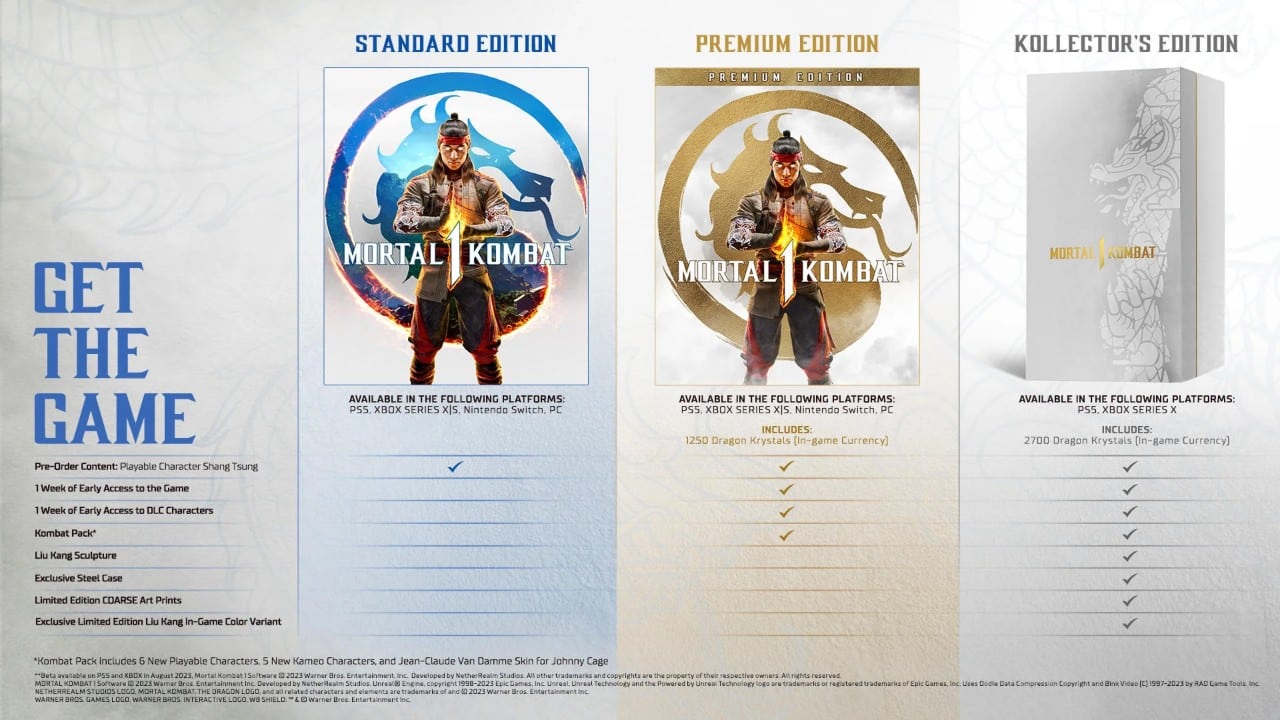 Fonte: NetherRealm Studios
Mortal Kombat 1 will be released on September 19 for PS5, Xbox Series, Nintendo Switch and PC. It is not clear if the Kollector's Edition will be available for Brazilians.