Peridot is a new product from the studio Niantic, i.e. the creators of Pokemon GO, an unprecedented phenomenon at the time. do you remember In 2016, the world stopped for a few weeks and a lot of people slowly did nothing but walk around with their cell phones, buy power banks, and catch Pokemon. There were reports about it on television, non-gaming media constantly reported on the game. Pokemon GO was everywhere.
Peridot can only dream of such glory. On the one hand, it is not based on any globally popular brand for decades, but above all, it is neither that good nor that interesting. And although previous ignorance of the brand does not prevent success, quality or poor quality does.
A virtual caregiver
Peridot puts you in the role of a virtual parent, or perhaps better said a caregiver, and entrusts you with the little pet Dot. It's big-eyed, colorful, expressive, cute, and precisely crafted by Niantic's designers, graphics, and animators to make you fall in love with it. Building at least some kind of relationship with your Dot is key, as the core of the game is nothing more than caring for your pet.
The creators here were mainly inspired by the Tamagotchi, so it is clear in the first minutes what the next ones will be about: You have to take care of your Dot. Feed him, play with him, cuddle him, and generally do what you see in front of him and the UI. But none of it is particularly sophisticated or entertaining.
source: Niantic
Playing together consists, for example, of throwing a ball, when you throw a ball to Dot by simply dragging your finger (that is, a movement not dissimilar to throwing Pokéballs) and he picks it up. I didn't find any greater finesse, gamification and meaning in it, but I admit that I'm not at the end of the game and I don't even want to get to it. At least in the first and slightly later stages, however, it is nothing interesting. And so it is here with everything.
You also have to feed Dota, for which you will need different types of food obtained from different environments. This is where real-life walking can come into play, but Peridot doesn't focus on it nearly as much as Pikmin Bloom or Pokémon GO. And the game doesn't really motivate you to move. You can go for a walk with Dot, but it will offer you significantly fewer reasons why you should go for it.
In practice, it will be enough for you to move around your home or its immediate surroundings. And you can easily satisfy your pet's need to look at different surfaces even within the household.
But what the game uses much more than its predecessors from the same studio is augmented reality, or AR. In addition to various surfaces, your Dot can also react to people or even pets. And he's very good at it, most of the time he interacts adequately, and if your dog "cooperates" (i.e. either does nothing or just plays a little), it's cute to watch similar events. But this joy will only last for a few tens of seconds. Primitive gameplay alternates with cuteness, and if that's enough for you and you're satisfied with the fact that there's not much to do, but it all looks very nice, then I envy you.

source: Photo: Niantic

We are already getting to some gameplay, progression and systems in the creation or breeding of new Dots. But to multiply, you need a special nest locked behind real money, so the creators start pulling euros from you before the game really gets going. While you can get a new Dot through breeding that inherits the characteristics of its parents, giving you access to new traits and archetypes, it can't be done without money.
Children's portion
The developers have come up with a very nice concept and graphically, Peridot also looks great, the production values ​​are beautiful and everything is sunny, but it's also all about twenty percent. Not so much unfinished as uninteresting. Cuddles get tired quickly, walking makes no sense, feeding seems like a waste. For elements that could be really interesting, the creators get paid solidly. And even breeding itself is not a major game changer. There is simply nothing to dive into, everything seems terribly simple, even trivial in places, and it's repetitive to the point of woe.
Of course, not only this genre stands and falls on repetitiveness, but Pokémon GO and actually even Pikmin Bloom or Ingress prove that mobile games with augmented reality can be done much better. I'm afraid that the creators here simply did not take this genre to the right end. Well, at least not for me and – now allow me to make a minor generalization – for most adult players. I can imagine that a smaller child could be excited about Peridot, just as the younger generations were excited about Tamagotchi in the 90s, which was not as sophisticated either.
A glass void
It's fascinating how hard it is to break into the subgenre of AR games. Of course, Pokémon GO isn't the only one, but nothing else comes close to it. On the contrary, we had, for example, Harry Potter, one of the most popular brands ever, and how it turned out. The Witcher, Jurassic World, Ghostbusters, Minecraft Earth, Angry Birds or even The Walking Dead – which of them have not ended, are not exactly flourishing – also ended in infamy. At the same time, these are very popular brands with armies of fans and practically perfect recognition in the mainstream. What to pay for, they didn't manage to gain fame in augmented reality anyway.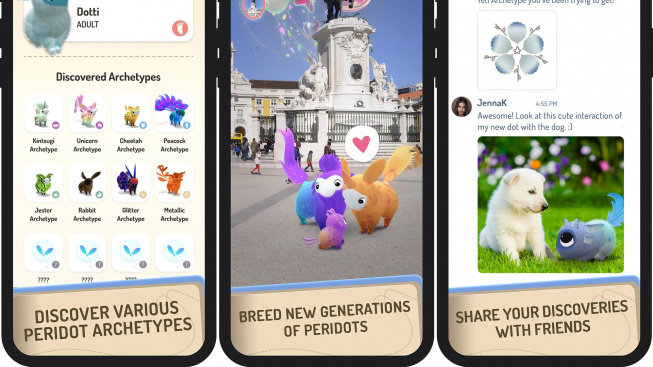 source: Photo: Niantic

And these are "only" those cases when the games at least came out. Let's not forget that Blizzard was once heavily rumored to be working on an AR Warcraft. God knows where there was something in the works on AR before it was canceled before it was even announced.
Obviously, making an AR game isn't that difficult for experienced studios, but making an AR game that has "legs", lasts for years, and will be played by a large number of players is obviously an almost superhuman task. Niantic has experience, know-how and an unimaginable amount of data, and they will still send a product to the market, where the limited potential is obvious in the first minutes.
Whether Peridot will end sooner or later, I can't tell you right now. I have already deleted the game from my phone, but the potential to appeal to a younger, undemanding audience is directly palpable. In addition, everything about her is very beautiful, cute and definitely not unfunny in the first place. Peridot is like a glass sculpture. It may look beautiful, but it is hollow, transparent, and shatters easily.