A card was sold at auction Pokémon incredibly rare from 1997 by $300,000 USD. The card in question is a card Pikachu Trophy No. 3 Bronze Trainer which was only awarded to select participants in a Japanese tournament.
Auctioned by Heritage Auctions, the card was one of only four copies certified by PSA. In total, there were 50 bids on the item before it reached its final sale price. Not only is this one of the letters of Pokemon rarest cards in the world, it also happens to be one of the first promo cards in the series.
In a press release, Heritage trading card game consignment director Jesús García praised the importance of the card. "The historical importance of this card made us confident that it would do well, but the result exceeded everyone's expectations," Garcia said. "This card was not in the booster boxes that were offered at the time. It was only available to trainers who finished in third place in the first official tournament of Pocket Monsters in Chiba, Japan in 1997. It is an extraordinarily rare card and is now a centerpiece in the winning bidder's collection."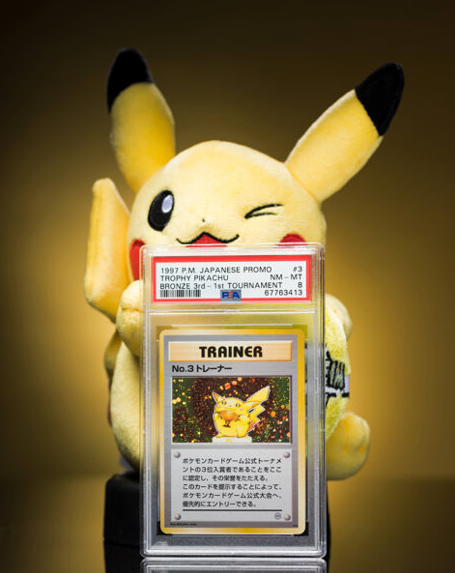 The card was sold during a Heritage Trading Card Game Auction, which raised more than $2.4 million in total. The cards Pokémon they took the top seven spots in the auction, as well as eight of the top nine. In addition to the card Pikachu trophythere were various other rare items from Pokemon available, including a sealed first edition booster box of the base set, which sold for $237,500. An uncut test sheet of the base set also sold for $250,000, which Heritage notes was "more than eight times its pre-auction estimate." Clearly the auction had some really cool options! Given the rarity of these items, it is not surprising that there has been significant fan demand for Pokemon. However, the amount of money these items raised speaks volumes about how valuable the first cards have become. Pokemon.
Via: Comicbook