Crash Team Rumble is the new "CTR" of the Activision franchise. But, calm down, the only similarity is just its initials. The new spin-off promises a lot of fun for anyone who gives the world's most beloved marsupial a chance, however, he will sweat to reach his full potential.
"CTR", unlike Crash Team Racing, is not a kart racing game. Here, players are divided into two teams of four members, to see who collects 2,000 Wumpa fruits first – an objective that guarantees victory in matches.
O MeuPS had the opportunity to participate in the closed beta and the premise is pretty basic. With famous characters from the franchise (Crash, Coco, Dr. Neo Cortex, Tawna, Dingodile were available during the beta), players need to jump on platforms, collect relics and fruits… very familiar things, isn't it?
(Photo: André Custodio/MeuPS)
The cool differences are the strategies involved in each map and the role of each hero — Crash is a scorer, Coco is support and Dingodile is a blocker. Don't just go around picking up Wumpas until you reach 2,000 points. You need to guarantee "boosts" that boost the amount of fruit delivered to your base, prevent your enemies from doing this and use special abilities on the maps.
Such "impulses" are platforms shaped like the famous gems (or jewels), which need to be captured by a team. As more of these areas are secured, the Wumpa multiplier goes up, so if Crash, for example, has 130 Wumpas in his pocket, he can score 260 points in one go.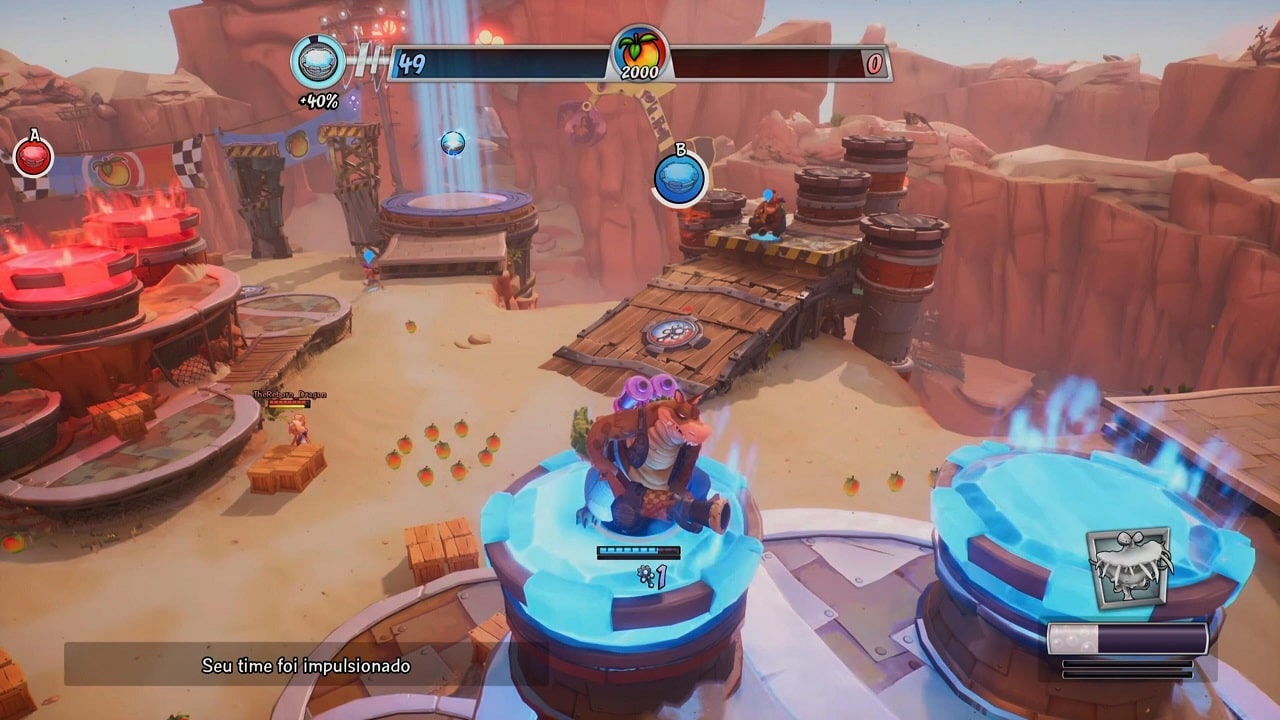 (Photo: André Custodio/MeuPS)
There are also special abilities scattered across the map. To get them, you need to collect a certain amount of relics (objects that look like crosses) and go to a platform to spend them. Depending on the chosen power, the player can use a trampoline to cross the map, roll around inside a giant ball or even bomb the enemy.
Strategies vary greatly depending on the map and your team composition. Sometimes it's best to collect fruits and gems quickly, but in other situations, it's ideal to guard the enemy base with Dingodile and prevent the opponent from scoring. Special skills selected before the start of matches help with this – you can summon a plant that spits acid or a brute that electrocutes everything around it, for example.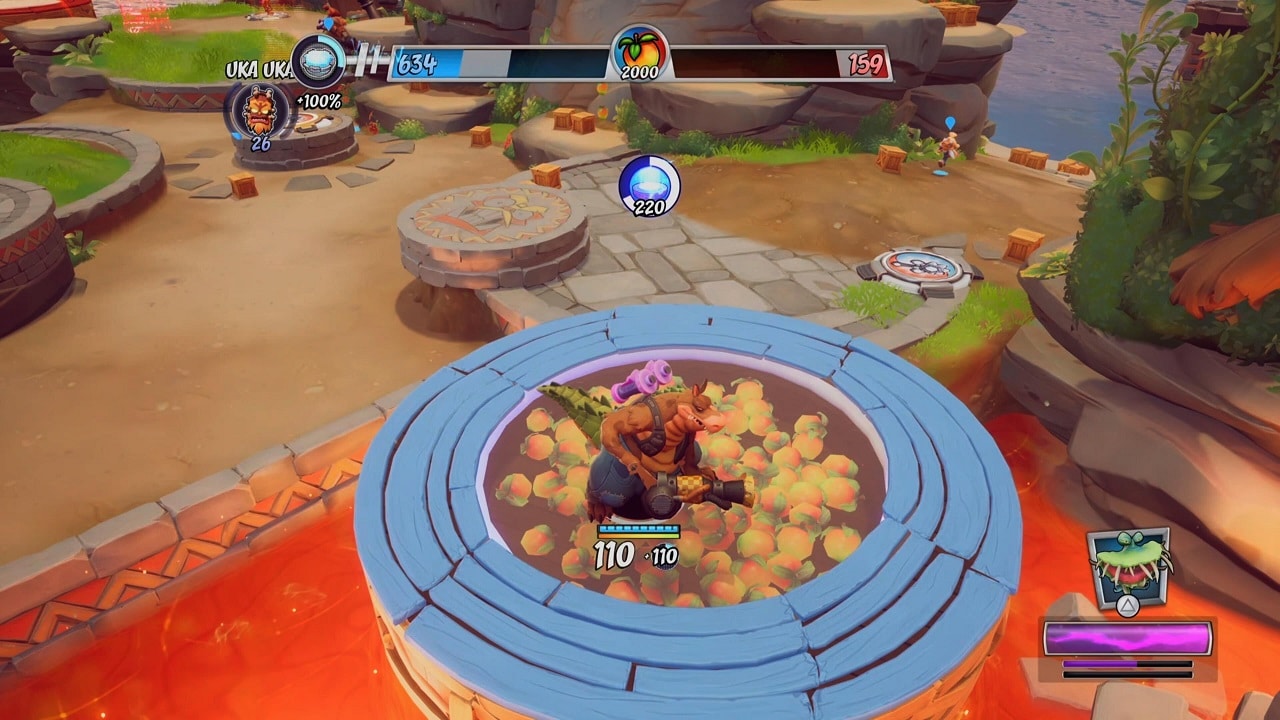 (Photo: André Custodio/MeuPS)
Finally, it's worth mentioning that Crash Team Rumble uses the same assets and graphics from Crash Bandicoot 4: It's About Time. Therefore, those who played the game (which was already available on PS Plus Essential) will recognize a lot when observing the details.
The probable problem of Crash Team Rumble
Leaving aside all the fun that Crash Team Rumble provides, perhaps the spin-off will encounter a major barrier when reaching the market: it is not free-to-play.
Although it is not a MOBA — even, the developer Toys For Bob makes a point of highlighting this —, the game incorporates many elements reminiscent of the genre. In addition, it also seems like one of those multiplayer titles that would reach its potential in a free format, by attracting a large community and profiting through cosmetics or skins for the heroes.
The new multiplayer 4 vs. 4 will need to prove his worth to win over the community. If it came directly to PS Plus, for example, the showcase would be too big to have a large player base. The launch is set for June 20 on PS4, PS5, Xbox One and Xbox Series.