What a circus!
If you're just looking for information about the gameplay, the story or the technology of Miasma Chronicles, then I recommend jumping directly to preview page 2, because I'm deliberately getting something out of this text… It's in the increasingly professional video game business It's not (anymore) commonplace that reporters like me can look straight in the eyes and over the shoulders of the creators. In the summer of 2007, I was able to casually stroll the hallways and snap photos at Infinity Ward – a few months before the release of their milestone Call of Duty 4: Modern Warfare. Such a thing would be unthinkable nowadays! For a similar experience, but set in 2023, we recommend a trip to Malm, Sweden, where the makers of the 2018 tactical surprise Mutant Year Zero are based. The Bearded Ladies is the name of the now 45-strong team – and they let me and a few other gaming enthusiasts from Europe's games gazettes get very close to them. We walk through their sacred halls together (which are as unspectacular as they are manageable and are hidden in an inconspicuous brick building in the city center of Malm), see animal masks and PS5 devkits there and talk during the day over a hummus sandwich or in the restaurant in the evening with one or the other Beer already so much about game making, about the E3 cancellation, about tactical games and retro stuff that I don't even know what else to ask Game Director Lee and Lead Producer Mark in the interviews scheduled for the next day…
Good team: Mark Parker (left) is the lead producer of Miasma Chronicles, Lee Varley (right) is the game director.
After a few hours of sleep and about as much time with Miasma Chronicles, a few things come to mind – why they call themselves The Bearded Ladies, for example. Lee Varley, a relaxed-looking Englishman who learned how to make games from Lemmings inventor Team17, explains unspectacularly: Back then, the company founders had the feeling that they were a kind of circus – a wild bunch with the goal of entertaining people . Hence the choice of name for the so-called "bearded ladies," as hirsutistic women were once called, who performed in the circuses and freak shows of the late 19th and early 20th centuries to earn a living. Now that that's clarified, I'm particularly interested in how much making games is actually the dream job that many people hope to get when entering the business. Producer Mark Parker, who worked with Lee for a number of years at the Danish hitman maker IO Interactive, is ambivalent: he admits that you work pretty hard and a lot, that he is almost always the first one in the office at 6 a.m. and that Game developers are good at one thing in particular – solving problems. At the same time, it makes him extremely proud to see his finished game in stores – that's one of the reasons why Miasma Chronicles will still be available as a disc version in retail stores. Lee gets serious when it comes to the subject of long working hours and crunch: He has experienced "the crap" several times in his career and is therefore fed up with it. He tells me emphatically, "If a junior developer is pushing extra shifts, I'll tell him straight out that that doesn't impress me." The Bearded Ladies do not want to repeat this mistake of the industry – rather postpone the game a bit or not polish a little thing than risk the health of the people behind the game. You could dismiss it as a phrase, but Lee means it, I can tell from the mature Brit.
grandia statt X-COM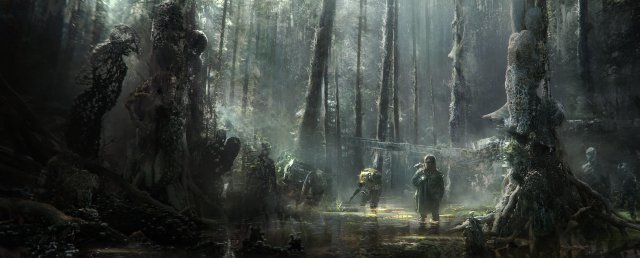 The concept art of Miasma Chronicles already creates a dark and at the same time beautiful picture of a dying world.
Of course, both gentlemen like to hear that after several hours of playing, I'm not worried that Miasma Chronicles could disappoint in terms of gameplay. I ask if they're still afraid that their title, which they've been working on for several years, might sell poorly. Mark is relaxed about that: You trust the publisher 505 Games in terms of release dates, public relations etc. and would try to fix any technical problems in no time. He also emphasizes: "We don't lie, we don't talk nonsense about our game, we don't make any promises that we can't keep." In terms of the warm-up result, the most important thing for the team is that the whole thing pays off and you can start making games "I can continue as before – he's long since brushed off the "Ferrari in front of the door". They both also explain to me that their games don't record 80% of sales in the first two weeks, but are more like marathon runners. Mutant Year Zero is selling still quite good, tactics fans don't automatically grab it on Day 1. In addition, the potentially big competing titles of the next few weeks, such as Star Wars or Zelda, are just not exactly that. No competition for Miasma Chronicles, because the target group is quite other is.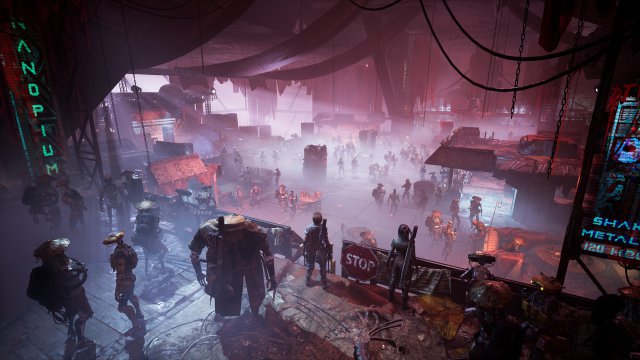 The official press photos for the game don't do a very good job of depicting what's happening on screen – but the real locations are almost as cluttered and detailed as here.
I still want to know where they would locate their games, i.e. Mutant Year Zero, Corruption 2029 and Miasma Chronicles, in the tactical genre. Are they closer to X-COM or Mario + Rabbids? Game Director Lee places his titles more in the area of ​​Gears Tactics or the Wasteland series when it comes to western games. But he actually sees Miasma Chronicles in the tradition of great Japanese role-playing adventures with tactically demanding battles – and names Grandia, Parasite Eve or Xenogears as prime examples. One would differ from X-COM above all by the higher accessibility and the lack of meta-games like base building or squad building. Both developers emphasize the importance of the game world, history and environmental storytelling (to also appeal to players from outside the tactical bubble), on the other hand Lee also mentions the optical and acoustic power within the fights as decisive. According to him, hits, animations and even shots whizzing by contribute enormously to the fact that the player enjoys the fights – and that requires an incredible amount of detailed work and iteration processes until the desired result is achieved. When asked about the weaker Corruption 2029, Mark, who not only acts as a producer but also writes all the in-game texts, admits that this Bearded Ladies title was created in just six months and was primarily used to give parts of the team work supply while Miasma Chronicles was in a very early phase. And he admits that he doesn't particularly like the Corruption story he wrote himself…