A Lego game for children
If you think of Lego games these days, the first thing that comes to mind is the action-adventures from TT Games (formerly Traveller's Tales): Whether it's Star Wars, The Lord of the Rings, Harry Potter or another licensed version, the games of the British studios under the Lego label are unmistakable, be it in terms of game mechanics or humor. Especially the latter is one of the strengths, because while the Lego games are without
The names try to be funny in Lego 2K Drive – but they rarely reach the level of TT Games.
Addressing doubts to a younger audience, even adult players can easily laugh at the odd joke or innuendo. At this point be particularly open Lego City Undercover referenced, in which one even dared to parody a 70s TV series like Starsky & Hutch without any problems, although this probably flew completely past many children.
Lego 2K Drive is also a game for children. This may not be a big surprise at first, but it becomes more than clear from the first minute – which is reflected above all in the presentation and the humor. Of course, Lego 2K Drive also has a few slapstick inserts and jokes, but they feel a lot shallower and more generic compared to the many other Lego games. Names like Frieda Fahrdoch are just plain silly, and when a toilet joke counts as one of the few convincing gags, it speaks volumes. That's not to say that Lego 2K Drive isn't generally unfunny, as younger gamers are sure to get more than grins here. As an adult player,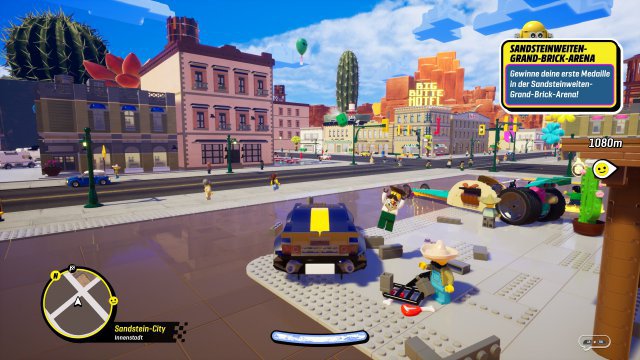 The game world in Lego 2K Drive is visually convincing – thanks to many small and large details.
on the other hand, you're probably going to hit a certain key a lot more often, namely the one to skip cutscenes.
But that's not so bad, because Lego 2K Drive doesn't have a really exciting story to tell. Well, nobody expected that either, because at the end of the day it is a racing game in which it is once again about being the best driver in the end. Until then, however, you first have to prove yourself, eliminate rivals and finally you have to deal with the somewhat nasty and arrogant antagonist, who of course doesn't play fair at all and has one or the other mean trick up his sleeve.
Race: Desired chaos
Admittedly, humor and story aren't points where a racing game has to be convincing, even if Lego 2K Drive would have had it a bit easier in this respect due to its scenario. Nevertheless, what counts in the end is what happens on the race track, and this is where the Visuals Concepts team delivers without breaking new ground.
The races against the AI ​​are fast-paced, you drift tight and breakneck around corners, collect various items from homing missiles to mines and screen-covering spiders, jump over chasms and battle it out for a more than obvious rubberband AI a close fight for first place until the last second. Lego 2K Drive celebrates the chaos in between, even rewarding you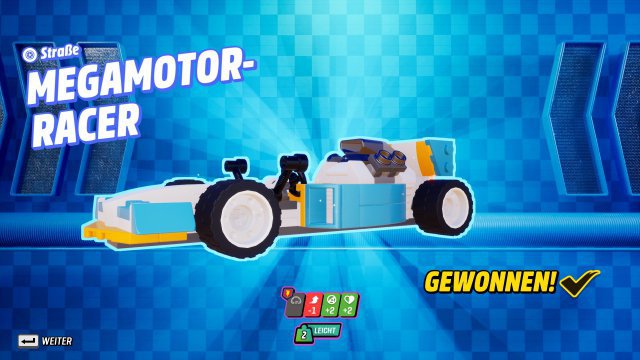 Those who win races can look forward to new vehicles, at least in the campaign.
if you dissect the edge of the track or drive completely out of line every now and then. The wilder you go, the faster the boost meter will charge, which can often give you a significant speed boost. However, you should be careful, because in some places along the way there is a nasty undergrowth, which slows down your own vehicle significantly, where even the strongest boost has its problems countering. So it's also a bit about using the chaos for oneself without going too far.
In addition, in Lego 2K Drive, you don't just drive one vehicle, but three. Depending on the surface you are on, you either drive a street or off-road car or plunge into the cool water if you are fit for water. The change is seamless and strongly reminiscent Sonic & All-Stars Racing Transformed, in which such a mechanism was already used. Similar to Sumo Digital's kart racing game, the strongest tracks are those where all three transformations play their part, combining road, off-road and water well while still leaving room for shortcuts and daring manoeuvres. Overall, the more than 20 tracks in the racing game are convincing, even if they are not nearly as memorable as in the dominating Nintendo competition.
Double-edged open world
Between races in Mario Kartstyle there is more to do in Lego 2K Drive, the keyword is Open World. Although technically there are several worlds, because Bricklandia consists of a total of four biomes: While the turbo field is a kind of tutorial area, the sandstone expanses (reminiscent of Palo Duro Canyon in Texas), Prospecto Valley (greenish landscapes mixed with a gold rush mood) and Schreckheim (haunted landscape with skeletons, spiders and witches) fall much more extensively and visually more different, and thanks to the Lego nature, a considerable part of the game world can be broken down into individual parts, at least temporarily – trees, roadblocks, smaller houses and civilian vehicles are quickly history in collisions. But your own car can also break down and you are forced to spawn again.
But back to the open-world structure: you drive across the respective worlds in the campaign, that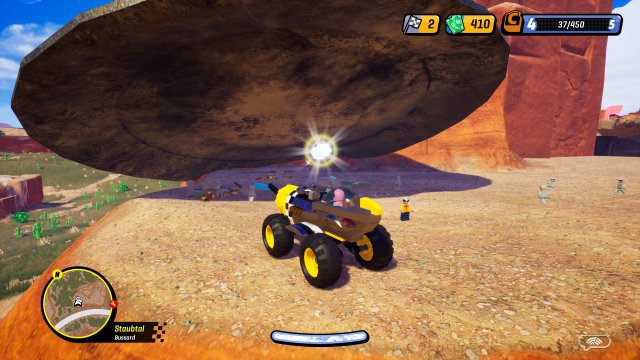 Collectibles await you everywhere in Lego 2K Drive, some of which are more or less well hidden.
Appropriate driver level provided, for the various races, pursues side jobs, completes so-called in-between events and collects countless collectibles – Forza Horizon sends regards. However, Lego 2K Drive does not achieve the pleasant flow of the obvious model and towards the end the grind increases significantly in order to continue to climb the level.
Sometimes this is also due to the activities themselves: events where you only have to jump a long way in the car or get from A to B quickly are completed quickly and are fun due to the high speed. On the other hand, it is valid to toss a giant egg into a frying pan or hitting pigs with pinpoint accuracy in order to get them into the car reveals the weaknesses of the very arcade-heavy driving experience: Precise inputs are difficult to implement and all drifts in these seconds feel like driving on icy ground. Other missions also suffer from this problem, such as defending a science project from an alien invasion or protecting a western town from attacking zombies. And despite the underlying creativity, the tasks tend to repeat themselves seven to nine hour campaign then very quickly.