Minecraft hardly needs any extensive introduction. Even if you are not really particularly interested in computer games, you cannot avoid having caught up with this huge brand. The game has been under constant scrutiny since the world got access to an early version in 2009.
The brand will have earned just under NOK 4 billion in 2021. Not many games can boast such popularity almost a decade and a half after the public first gained access.
There is little to suggest that Minecraft will disappear from the radar any time soon. It should be said that Mojang Studios has made an effort to constantly renew and expand the Minecraft universe in order to attract new and retain loyal players.
In 2020, Mojang launched Minecraft Dungeons, a dungeon crawler game with the awkward characters we've come to know. Now Minecraft unites with yet another genre: real-time strategy.
Minecraft + StarCraft
This time, the Minecraft universe is merged with another game, whose name also ends in -craft and which has also left a deep imprint on gaming culture; StarCraft.
In Minecraft Legends, the pig creatures (piglins) from the underworld have launched a grand assault on the overworld. Equipped with a lute that controls some fairies, it's up to you to smack the pigs in the face and stop the invasion.
The pigs deserve a punch on the face.
Xbox Game Studios
One thing Minecraft and most real-time strategy games have in common is that you can't accomplish much without gathering materials. Hacking trees and rocks to get materials to build a base has always been the mainstay of Minecraft, and Legends is no exception.
In contrast to the main game's perpetual and somewhat one-sided material hunt, it all happens more automatically here. Using the aforementioned lute, you send the fairies out to gather materials or build structures in the main base.
At the start, your fairies can only gather stone and wood. Eventually you can build upgrades that allow you to mine iron, which allow you to build further upgrades that in turn allow you to mine new materials, and so on.
With the materials, you can also build structures that allow you to build an army that you can lead in the war against the pig snouts. Eventually, you can recruit a number of types of soldiers with different characteristics. One does a lot of damage to the pigs' walls and towers, while another, for example, is more effective at directly damaging the pigs.
Cluttered battlefield
Unlike Starcraft and other RTS titles, you can't just click around the map to quickly get an overview of the situation. Namely, you have to maneuver your character through the landscape manually. This means that it can be a bit difficult to do several things at the same time.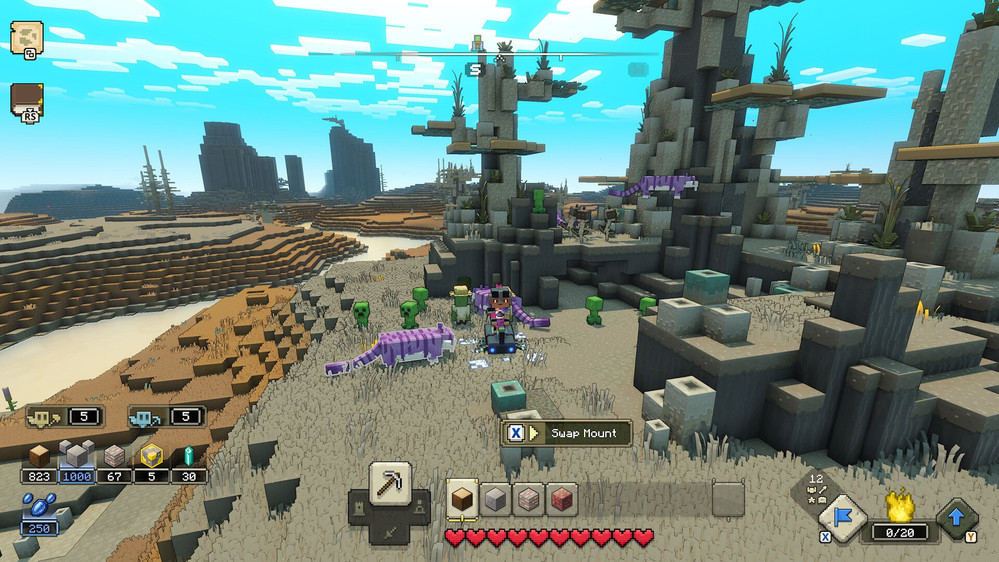 Minecraft Legends.
Xbox Game Studios
It takes its toll on keeping the gathering of materials going, project managing the upgrading of the bases and directing an attack on a piglin base at the same time.
That you control your character like that is probably done to support the point that you are the hero. And certainly to keep you busy continuously gathering materials and building more outpost bases closer to where the pigs have established the portals you must destroy to stop the invasion.
The story mode takes place at a leisurely pace more or less completely on your terms, so right here, strictly speaking, it doesn't matter that much that it takes a little long.
Best together
But it's also enough that I almost advise against playing Minecraft Legends alone. Don't get me wrong, most games where possible are more fun to play with others, preferably friends. But it's a shame when the balance is so lopsided that it's almost a prerequisite for the game to entertain.
Fortunately, you can invite friends to assist in the fight against the pigs, and they can seamlessly jump in and out without disrupting your progression.
As expected, the game also comes with an online mode where up to eight players divided into two teams can bark together. Here, cooperation and division of labor can be decisive for success.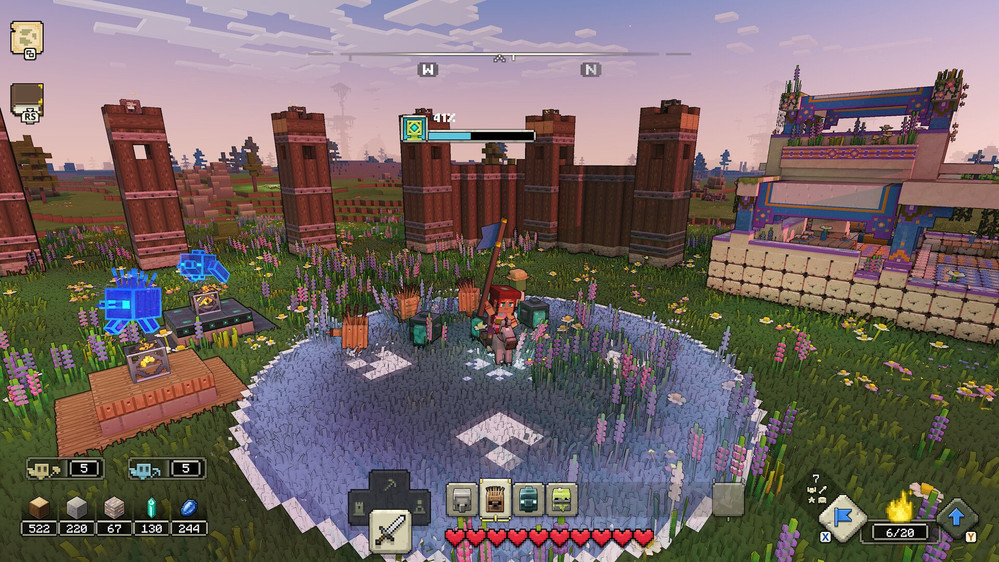 Summon the troops!
Xbox Game Studios
With strangers and no communication, it seems a bit random who does what and thus what happens. I haven't analyzed heavily, but it seems now, early in the game's life, that the most effective thing is to quickly build an army of the figures that do a lot of damage to walls and structures, and take them to storm down enemy base to win.
With a little more coordination and communication between the fellow players, I think the matches will be added a much deeper layer of strategy. A clearer division of labor will be required, and I'm guessing the matches will be more dynamic as you have to react to attacks, and adjust to what the opponent comes up with.
That the familiar Minecraft-style map auto-generates anew for each match helps to make each match different. In one battle there might be a piglin base between you and the enemy, in the next you have to lead your army over or around a mountain.
Since we live in a time where all games must be optimised, it will be exciting to see if a clear "meta" will emerge. Will Mojang possibly adjust and balance the game during its lifetime if necessary? New challenges are promised every month, but I hope the developers keep an eye on the health of the PvP portion of the game as well.
Conclusion
All in all, I think this is a fairly successful meeting of two worlds. It's all wrapped up in Minecraft's colorful and square-based graphics, which might help make the encounter a genre that can be daunting to pick up.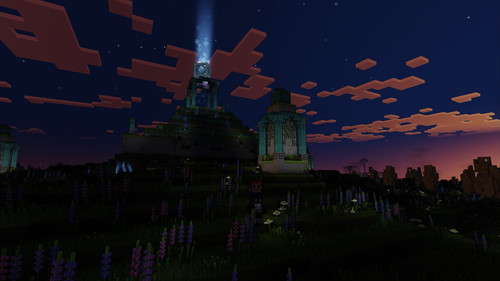 Home Sweet Home.
Xbox Game Studios
The campaign does a good job of gradually teaching you the basics of both base and army building, and I think this could be a good first encounter with the RTS genre. It is nice that the game both allows for – and allows for – that you can play with others. Minecraft has always been the most fun with friends.
However, it is a bit unfortunate that the game is so dependent on being played with others, and preferably famous ones, in order to reach its full entertainment potential. Alone, the game feels a bit slow, and with others without communication the experience suffers a bit from chaos.
The game flourishes when you are at war against other players, together with friends on Discord. Then tasks and responsibilities can be coordinated, strategy developed and adapted to the situation, and (hopefully) victory celebrated together.
Minecraft Legends is available on Nintendo Switch, PlayStation 4, PlayStation 5, Windows, Xbox One, and Xbox Series X/S. It's also included in Game Pass.