Watching people play tabletop RPGs. Staring for hours at a bunch of nerds sitting at a table, occasionally throwing dice and yelling that they just killed a dragon, pretending that Kája is an immortal elf with pointy ears, not a forty-year-old postman from Buděžice with a slight overweight. What will be next? Will we gather with friends and family on Sunday to watch the paint dry on the wall? WHERE WILL THIS DECADENCE OF MODERN SOCIETY END???!!!!
I hope it never ends anywhere. I hope it continues forever. That we will sink into it like Artax into a swamp. That everyone will be watching Legends from the table. Or Critical Role. And if they didn't have the time and desire for that, they would at least play The Legend of Vox Machina.
This adventure animated series is unique in that it reworks something that has already happened on camera in a different format. It is inspired by dozens of hours of playing Dungeons & Dragons, which was brought to the screen and headphones by the Critical Role group of professional actors and voice actors. It just condenses it all into twenty-minute episodes. What happened in the game also happens in the series, only often differently, accelerated, modified.
And what's beautiful: The actors remained the same. Each of them returns to their character, creating a remarkable continuity between the original and the adaptation.
You might think that this is nice, but at the same time it is a small thing that will please the fans of the original RPG show. And you are absolutely right. Trying to sell The Legend of Vox Machina to you like this would probably be pretty futile. So I'm going to choose a different angle of attack and write straight out that this is one of the best fantasy anime I've ever seen.
Sewer heroes
Let's start with the first series, which premiered on Amazon Prime Video last January. Let's jump straight into the world of Exandria and follow its mightiest, noblest, bravest heroes and their eternal struggle against an invincible evil…
What? That we instead sit down in a pub with a bunch of vulgar, ragged poor people who have elevated drinking to an Olympic sport, have no self-respect, and whose greatest happiness is that they are not important enough to be killed?
…You know what, why not after all.

source: Photo: Amazon Prime Video

If The Legend of Vox Machina has anything to win you over, it's probably the characters and their chemistry. It reminds me of Firefly in a way – from the very beginning, the series very convincingly sells the central group as a group of friends who have known each other for years and have been through enough hardships together to bond them together more than a mixture of cement and mud.
The heroes are each likable in their own right, but they complement each other very well. The demi-priestess Pike with crushing doubts about herself and her faith, her best friend and protector, the blunt muscleman Grog, the sibling duo Vex and Vax, the conceited nobleman Percy, whose elegant trinkets and well-groomed exterior you'd never suspect a putrid darkness, the timid druid Keyleth and her opposite, the promiscuous bard Scanlan… She's a mismatched lot, and I'll be surprised if you can't fall in love with her.
World? We better save ourselves
The story is cleverly constructed in such a way that it touches the characters intimately very often. The group deals with things that are personally important to its members, the script does not rely on the classic heroic shortcuts of saving the world, or at least not very often and at least not in the first series.
The tone of the series is rather humorous and light-hearted most of the time, but at the right moments it can turn the page and play exactly the serious chords of poignancy and mild pathos that are needed to feel the right emotions together with the heroes. One moment you're giggling at what the madman Scanlan is up to, the next you're surprised to find yourself on edge as Percy grapples with the ancient demons of his troubled past.
Now that I've set the tone, be careful who you watch the series with, as there is quite a lot of biting in it, monstrous teeth into human limbs, steel into necks and so on. Blood, brutality, but also sex and booze, you can enjoy it all in practically every episode. Sometimes this overshot rawness seems playful and cheerful, other times it makes you freeze, if your favorite character just fell apart in front of your eyes.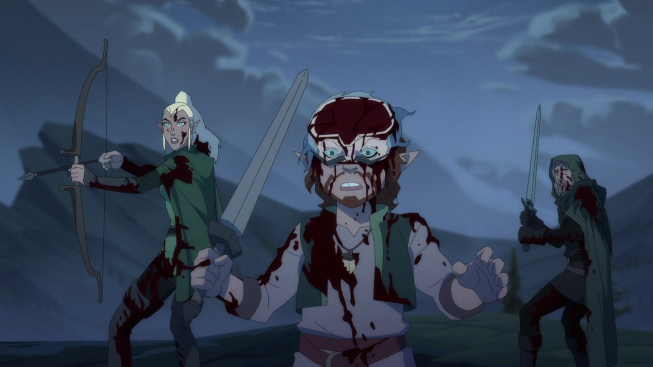 source: Photo: Amazon Prime Video

In fact, it happens quite often. That something goes wrong for the heroes, that they lose allies, that their plan fails completely. One smiles knowingly when a carefully planned action falls apart at the first, seemingly trivial step – even though I haven't watched the original RPG gameplay (I've only listened to a few episodes for fun, to familiarize myself with the format), the sudden plot twists definitely have the magic of the broken throw.
The first series, despite this "randomness" that takes the reins out of the hands of the hapless screenwriter, works the way a good piece of drama should work. An introduction where we're introduced to both the heroes and the basics of the problem, a middle act with appropriately disastrous consequences to properly raise the stakes for the final confrontation, and even something of a lesson that comes out of it all.
We don't need dragon slayers
I'm much less excited about the second series, which premiered this January. I thought for a long time about why this is so, why in the end I actually had to convince myself a little to finish watching all the episodes, when I basically devoured the first series in one sitting.
There are several interrelated factors behind this. First, the villains are far less interesting and charismatic this time around. Vox Machina crossed swords with a lot of different villains in the first season, and they all had a thing for each other, especially the Briarwood family. The new enemies, the dragons, are really destructive and seem downright invincible, but… they're not exactly complex. They want to loot. They want to destroy. They want to loot. They want to kill. And that's about it.
The second season of Vox Machina somewhat functions as a typical sequel, in which each threat becomes more terrifying, each battle more hopeless. But at the same time he falls into a trap. Our lovely group suddenly saves the world, its members become avatars of gods and collect famous artifacts, and the charm of a random group of poor people who are happy for every other day and every other beer is lost.
The humor also suddenly seems a little more forced, more like an obligation, a box that the screenwriters had to check off – and at times it's downright disturbing. After all, Scanlan has to make jokes, so he'll just make them, even when people are dying all around him and death or maiming is lurking at every turn. What will we do with the terrifying winged lizard that is responsible for the deaths of tens of thousands? We stick a finger in his ass, how else?
The big, important moments don't feel as pivotal as they used to, a lot of seemingly crucial storylines sort of resolve themselves without consequences (for example, the vampire sword in the hands of Grog is an excellent example of this). In short, it holds everything together a little harder.
This is not to say that the second series is not worth watching. Some parts of it, on the other hand, belong to the best of the entire series, for example, the strange fairy-tale realm, in which Billy Boyd, aka Pippin from The Lord of the Rings, plays a truly extravagant main role. If you like number one, definitely check out number two – just don't be surprised if it doesn't jump the high bar.