The next game from Myst and Riven creator Cyan Worlds has been given a release date. Firmament – as it's called – comes to PC on May 18, via Steam and GOG.com.
MYST-isk.
Cyan Worlds
For Myst fans, much should seem familiar here. Firmament places players in a three-part fantasy world and asks them to solve dozens of puzzles to uncover a larger story.
For help, you have with you what the game calls an "Adjunct", who helps with the puzzle solving. You also encounter a ghostly figure with his own story to tell.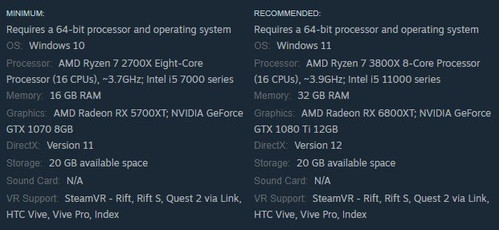 PC requirements for Firmament.
Screenshot: Steam
Firmament can be played both on the PC screen and in VR. The game supports Rift, Rift S, Quest 2 via Steam Link, HTC Vive, Vive Pro and Valve Index. For VR, you have to have a powerful rig, but even the standard mode requires a lot from your PC. See the system requirements in the image to the right.
Cyan explains to PC Gamer that Firmament is a visually demanding game. The developer points out that the game runs just fine on the minimum requirements, but wanted to give fans a clear indication of what to expect based on the PC they are sitting on.
READ ALSO: Minecraft meets Dungeons & Dragons in a 10-hour Minecraft expansion »