Game website and cosmetics? No, it's not April Fools' Day, we just decided to experiment with something seemingly unrelated to gaming, yet a direct result of the intersection of video games and mainstream pop culture. The British cosmetic company Lush, which is also popular in our country, launched a limited edition of selected products with the theme of Super Mario Bros. and… We were simply intrigued by that.
It's not every day that seemingly unrelated brands come together, and in this particular case, we liked that the company thought about the concept and brought products that have more in common with the original than just the cover. The difficult role of reviewing cosmetic products was undertaken by Aleš and Šárka, for whom this is the first opportunity to try this non-traditional discipline.

source: photo: Lush

Sárka: I still remember the comment that appeared under one of my first articles on Games that they shouldn't let me write about games anymore and the writer would rather recommend me to focus on fashion and cosmetics. Even then I thought the story was funny, but I never dreamed that I would one day write an article about cosmetic products for a gaming website. Who laughs last…
On the occasion of the release of the new film with Mario, a limited collection of products was created in collaboration with the Lush brand, and who am I to take bathing and showering to a whole new level of fragrance?
A pair of iconic yellow cubes with question marks came to our editorial office from the Czech representative office of Lush, whose mysterious contents we fairly shared with Aleš. His descendants love Mario and his friends roughly the same way I adore a bubble bath with sparkling water where I can feel like a bathroom princess. That is a lot, as the hot water bill sometimes painfully reminds me.
Ales: I know Lush, mainly thanks to my significant other, who likes this brand of cosmetics. Not that my nose doesn't itch when I occasionally visit their store, but the truth is that Lush knows how to perfectly produce scents that evoke delicious food, and so you often want to lick some of the soap or shampoo (it is said that the staff has encountered this more than once) , because if it smells so strongly of caramel, it must taste like it, right? Well, no…however, I never found the courage to try.
But I do know that they have a great sea salt hair shampoo, they put glitter in some products that sticks to you and is really hard to get off, and – most of all – their shower gels are an endless source of fun for my kids and a sure way to get them to get into the shower or bath even if they don't want to. Plus, both my kids and I love Mario, so when the limited edition came out in conjunction with the premiere of the movie, we couldn't help but get a little excited. I also like to experiment and am one of the brave few who once bought a "gunpowder scented" hair clay. All I can say about this fiasco is that it had nothing to do with gunpowder, but the stench was terrible…
In the end, it turned out that Lush itself offered us the opportunity to test the products, so Šárka and I split the entire Mario set between us… And here are our findings. I chose taking into account the fact that the children will enjoy the shower jelly, the son will be excited about the licensed shower shampoo, which also smells unique compared to the classic "showers", and a huge bath bomb in the form of a classic block with a question mark from Mario is just a great idea.
The first thing to try was the Gold Coin soap, which is… Yes, a soap in the shape of a classic Mario coin. It smells beautifully of honey, my fears about the presence of unremovable glitters were not confirmed, and the children accepted it with traditional pleasure and looking at other, more interesting things. All I can say here is that it smells nice, although of course it loses its coin shape after a few days of use. But it still has a pleasant smell and will also replace the shower gel. Only the Maria branding will simply disappear soon.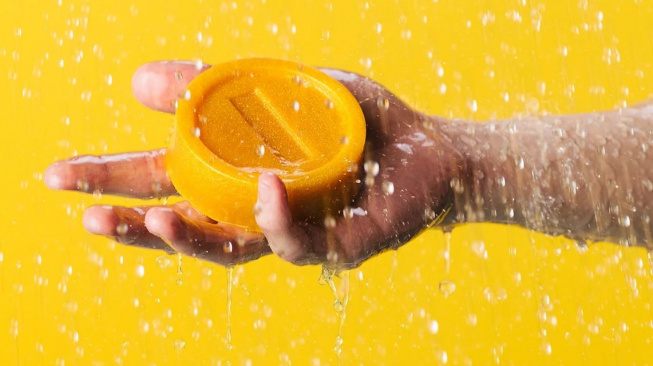 source: photo: Lush

From the pair of shower gels Mario and Luigi, I reached for Mario and left Luigi for Šárce, because my son prefers Mario. It is nice that all the packaged products have flavor text on them, which brings the product closer to the games. Of the trio of pomegranate, Persian lime and cola, I could smell only the latter, but that's enough.
If you don't want the classic "fresh" shower gel, Mario is a seriously nice change. Although you get an intense taste of cola in the shower, it is otherwise a non-obtrusive scent that does not shout at you: "I am pure ocean and I do not resemble Savo at all!" You will rather sit in your bathrobe in front of the TV (or rather the fireplace) and drink hot cocoa. Of course, Mario is a red gel and Luigi is green, and the color is a bonus for kids. The result – my son took the gel.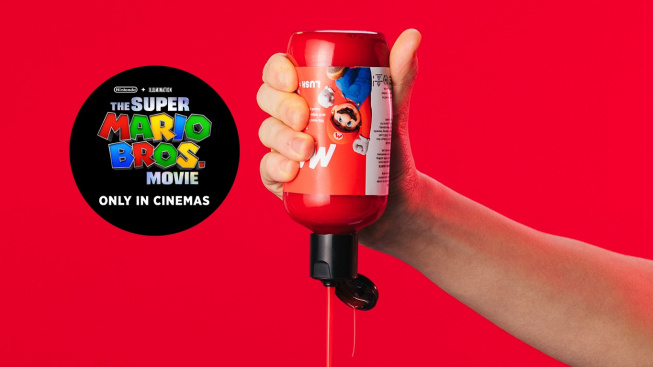 source: photo: Lush

We come to a pair of shower jellies that, as I mentioned before, kids absolutely love. It is de facto a shower gel in the form of a shaken jelly, which you carefully hold in your hand and wash with it, and when it slips into your bath, it is very difficult to catch (which, of course, the children really enjoy).
I chose Princess Peach jelly for my daughter because it's pink (and my daughter loves pink) and it smells… Just like princesses. The success was maximum, the combination of pink, the smell and the fact that it is directly written on the cover that it is Princess Peach was irresistible. I wouldn't pick this scent myself because the pineapple and peach combination is too sweet for me and it feels like a product aimed more at women. The result – the daughter enjoyed the jelly.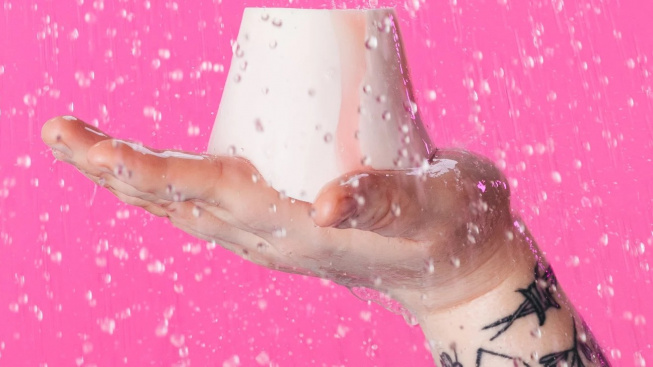 source: photo: Lush

On the other hand, I happily acquired the Bowser shower gel for personal use, which looks inconspicuous next to the main characters, but in reality, its scent suits me best. I don't know if the jelly would be able to quench Bowser's anger as it says on the cover, but it would definitely give him an intense taste for welder.
Amber Jelly has a wonderful spicy scent, in which I can't specifically smell any of the listed ingredients (lime, benzoin, cinnamon), but if Dune Spice should have any scent, it would be this one (so Herbert described the spice scent as bitter cinnamon ). Bowser pretty reliably beats most branded shower gels that want to have a spicy scent, but often fail to do so.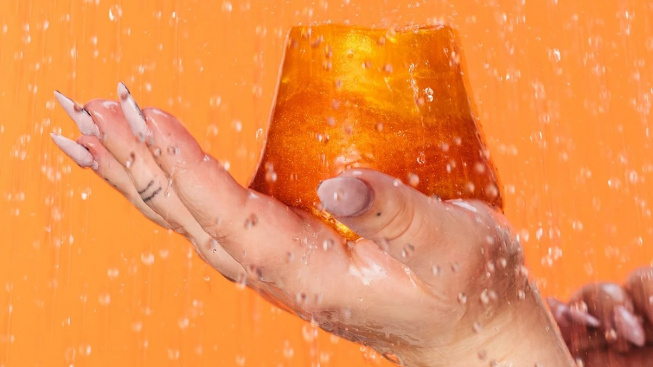 source: photo: Lush

And finally, there's the main star of the entire limit, and that's the aforementioned Question Block bath bomb, visually a box that Mario always bangs into and a power-up falls out. If you don't happen to be familiar with bath bombs, they are a mixture of salts that you throw into the bath and they dissolve and then you can let your work-ravaged body be treated with this mixture. Of course, it's also about the show, because the bombs dissolve gradually and make sounds, fizz, sputter, color the water in the pictures… Did I mention that the kids love this show?
Question Block is absurdly large even by bath bomb standards. It weighs 600 grams and yes, you are supposed to throw more than half a kilo of salt into your bath. The effect is really impressive, because the cube starts hissing, bubbling on the surface and moving around the bath very slowly due to dissolution, which then creates patterns on the surface resembling a damaged mandala. The released colors alternate and yellow and green are then replaced by blue. The smell of the salt is more citrusy, but let's not lie, this is mainly about the spectacle of dissolving and rolling in a colorful mixture of salts. The children survived this intense salt crust without any consequences, except perhaps for an argument where one offspring scolded the other to avoid splashing on the image.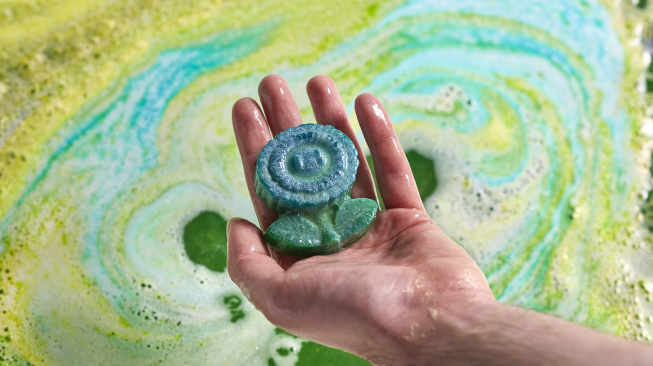 source: photo: Lush

But what I like most about the Question Block is the fact that Lush took into account the very idea of ​​the block from the game, and so put one of the six power-ups in each bomb, which in the end is another, small bar of soap. After dissolving the bomb, you may be left with, for example, a Mario blue sponge, a fire flower, an ice flower (in our case) or a star. This nice bonus somewhat balances the fact that the bomb itself costs 450 crowns, which is not a small amount for a one-time bath.
All in all, I have to say that Lushi's Super Mario Bros. Movie limit did a good job. I don't know how the products tested by Šárka turned out, just as I don't know how well they fit into her everyday life, because I approached the whole set primarily as something that would please my children and serve something useful. But of course, these are full-fledged products for adults and, apart from Princess Peach, I would have no problem including anything tested in my bathroom set.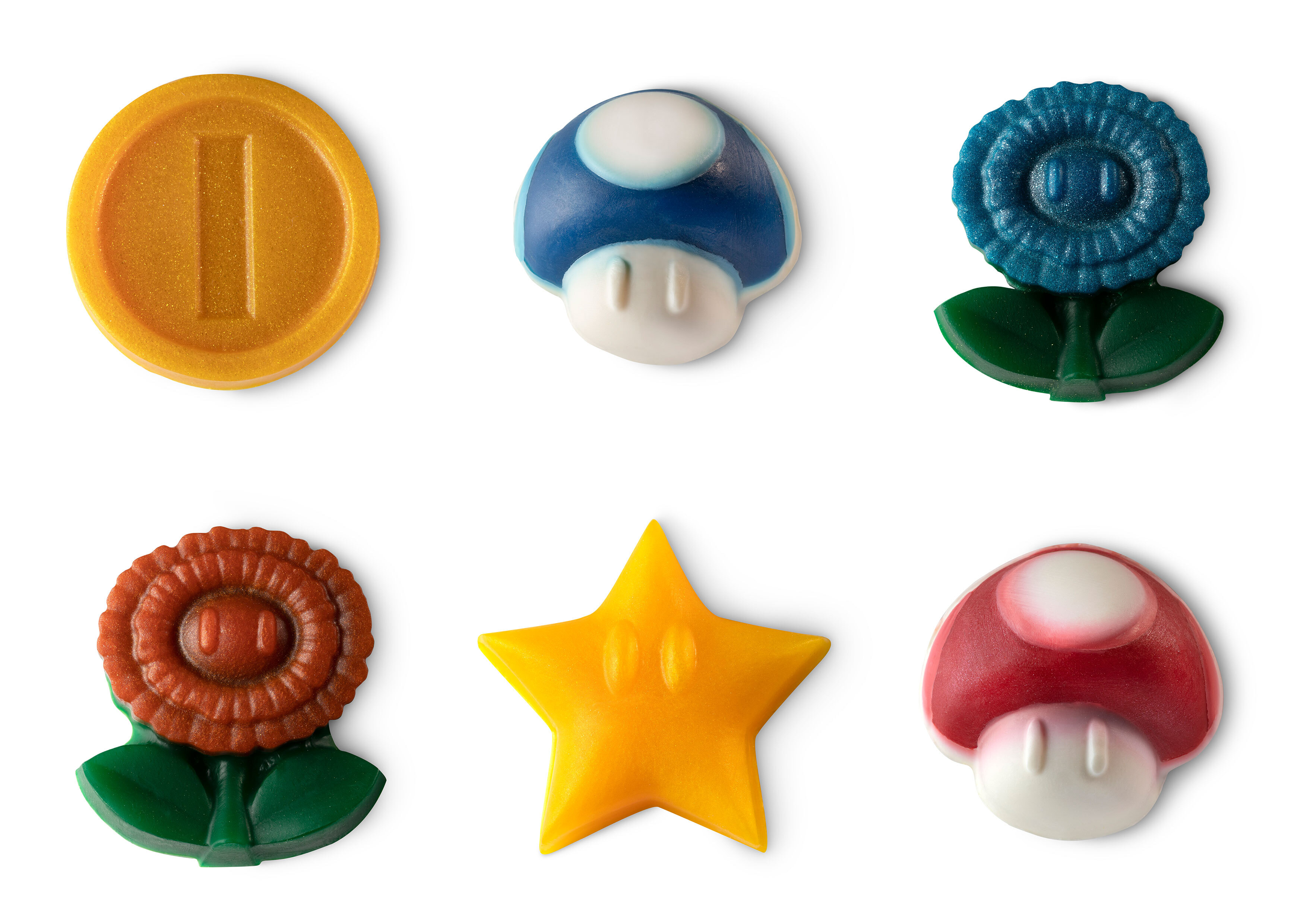 source: photo: Lush

Sárka: Lush has been one of my bathroom staples since 2010, when I discovered their relatively inconspicuous but definitely aromatic shop on a school trip in Rome. The phase of uncritical enthusiasm for novel ideas (shower gel in the form of jelly or solid shampoo were very original at the time) and efforts to taste the products have long since passed for me, but I still like this brand a lot because of its gentle approach to nature.
Even before we received the products, I managed to buy a Princess Peach shower gel myself in Palladium. The package was later supplemented by a body spray with the same peach-pineapple scent, which is very sweet, but at the same time it is lightened a bit by citrus notes and overall reminds me of gummy bears. It's not some heavy killer that causes half the tram to get up to change to another car, at least it hasn't happened to me yet. However, the smell lasts for a long time after application, which also justifies the slightly higher price – it is the most expensive product in the entire collection, it costs a little over a thousand.

source: photo: Lush

Of the two shower gels, I was left with Luigi, which I don't mind at all, because on the one hand, his brother has a straight brother, and on top of that, I prefer the smell of apples to cola. In this case, in Lushi, they combined the apples somewhat surprisingly with rose and orange blossom, so it is again a relatively sweet scent. From a visual point of view, it's definitely worth noting that the gel has a really strong green color that doesn't get lost even in the texture and reminds me of Luigi's slimy form from Luigi's Mansion 3. Of course, it washes off in the shower, so you don't have to worry about getting into the covers or out they had to turn green.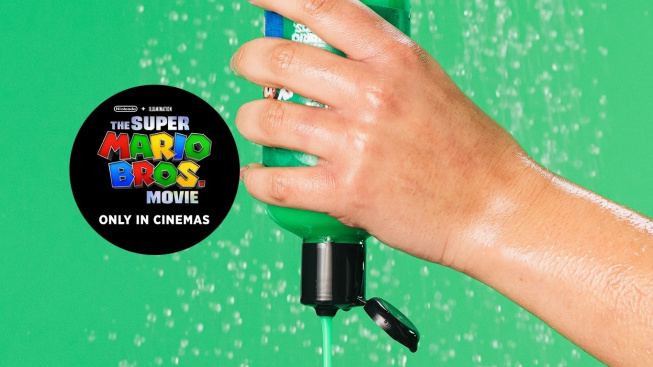 source: photo: Lush

Aleš has already described the experience with the bath bomb in the form of an iconic cube in quite some detail, including a surprise in the form of a small bar of soap that will remain with you even after a one-time bath. Being a bath fanatic and having known Lush for so long, the wow effect of the dissolution didn't work so much for me – I was more worried if the glitter would wash off well from the bath this time. But the power-up inside the cube (I got a sponge) is definitely a cute detail and shows that this collection was created by Mario fans for fans.
Lush X The Super Mario Bros. Limited Collection in the film is exclusively available on the website, Wolt and Lush brick and mortar stores.