It's almost a week ago Zelda: Tears of the Kingdom finally appeared and despite the similar world brings the successor to Breath of the Wild many new features with.
I missed one of those six years ago when I first tossed some Hyrule mushrooms into the cooking pot with deer and rock salt. Link certainly enjoyed the resulting pot roast and brought the dumb warrior back to life, but the memory of the dish soon faded without it saved recipe. Fortunately, that has now come to an end.
Zelda: Tears of the Kingdom – The true recipe for success
Because Zelda: Tears of the Kingdom brings in extensive cookbook with which each recipe will be inserted when you first prepare it. From mushroom skewers to cooked fruit, from fried fish to dubious mush: I can finally see which ingredients make which dish and what bonuses eating them brings.
Even the biggest chefs start small, and cooking fruit is known to be the poor Hylian's meat. Source: Nintendo
While Link doesn't carry a tome of his favorite treats, selecting one ingredient from the menu lets you all do it recipes already discovered watch – including other components and effects. If you are missing certain ingredients for the respective dish, you will be informed immediately.
An ode to curiosity
Not that you have to cook elaborate gourmet dishes in Breath of the Wild to survive in the wilds of Hyrule – that hasn't changed in Zelda: Tears of the Kingdom either. How many times have I a single maxi durian fried, because not only does it heal your health completely, but it also gives you yellow hearts.
So when it comes to efficiency, you don't need a cookbook. But Tears of the Kingdom is no more a game about efficiency than its predecessor: it's about curiosity, willingness to experiment and the will to keep discovering new things. Aspects that are also of great importance in the kitchen and with which you really get to know the culinary world of Hyrule.
Tasty collecting fever
But capturing these taste experiments on digital paper mostly satisfies mine passion for collecting in video games. Finally, hours later, I can still rummage through the culinary crimes and highlights I've previously fabricated; the dubious mud is no longer just a gruesome memory, but documented for eternity.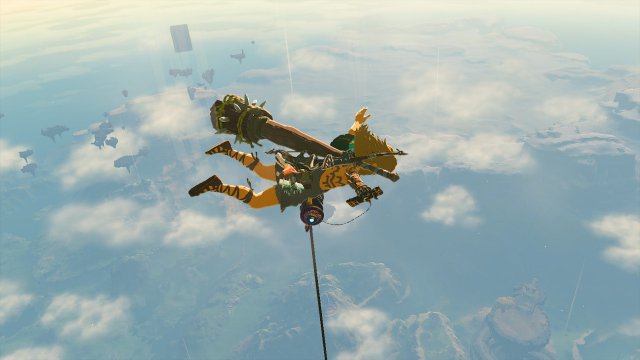 In search of new ingredients, Link not only combs mountains, rivers and valleys, but also goes high up in the sky. Source: Nintendo
The fact that the individual recipes are also numbered only fuels my collecting mania: similar to the Hyrule Manual, which has to be filled with photos of flora and fauna, the cookbook resembles an enticing Panini sticker album. In addition, the collectible recipes also make the individual ingredients much more exciting.
Suddenly I want to know what happens when I sear a Hyrule Bass with bird nuts or cook a lightning fruit with rock salt. And boom, I no longer only search the open world for shrines and Krog seeds, but also for new foods fr culinary experiments away. Of a Krog rotisserie, with the Players in Zelda: Tears of the Kingdom are tormenting the forest spiritsbut I probably won't dare.